While there are hundreds of Mac and PC applications we could encourage you to download, we had to narrow it down to our top five favorites. We picked the following five app's simply because for us they get the most use on a daily basis and help increase productivity!
1.) Dropbox | PC, Mac, Linux, iOS, & Android | 2GB Free
Dropbox allows you to sync your files online and across your computers automatically.
The free version of Dropbox includes the following features:
2GB of online storage for free, with up to 100GB available to paying customers. (You can earn more free storage with the following tips described below)
Sync files of any size or type.
Sync Windows, Mac, and Linux computers.
Automatically syncs when new files or changes are detected.
Shared folders allow several people to collaborate on the same files.
See other people's changes instantly.
Use your "Public" folder to link directly to files.
Control who has access to your shared folders. Kick people out and remove the shared files from their computers in the process.
Automatically create shareable online photo galleries out of regular folders.
In sense, Dropbox is just an external hard drive you don't need to carry around with you (unless you don't have a connection to the internet then your going to need that USB drive). Dropbox stores all of your files that you upload with Amazon's Simple Storage Service (S3), which is encrypted and kept securely in multiple data centers located across the United States. You can find more information about Amazon S3 or learn about Amazon S3's security measures on the Amazon website.

We have found the best use for Dropbox is users with multiple computers where they need to access some of the same files. For instance, if I am at work and modify a Photoshop image or a Word document and will need to modify it later in the day from home I can place the file into my Dropbox folder. Not only will the file be uploaded and stored on the S3 servers but it will be instantly placed on my home computer's Dropbox folder as well (given that you have linked the two computers with the same Dropbox account). Now say you want to access the file from a computer that's not yours or is a public computer (library, etc.), you can login to the Dropbox.com user panel and download a copy from there as well.
2.) Logmein | PC, Mac, iOS, & Android | Free Version
LogMeIn Free gives you remote control of your PC or Mac from any other computer with an Internet connection. Simply install LogMeIn on the computer you want to access (it takes about 2 minutes), log into your account from another computer and click the computer you want to control. You'll see its desktop and be able to use all the applications on your remote computer as if you were sitting in front of it – even if you're across town, across the country, or across the world.
I use this program all the time to access my work computer or vice versa, whether I need to work from home and use programs only my work computer has installed, or I need to start a download on my home computer while I'm still at work (you know those large Steam games do take forever to download). This program has been a life saver when I'm in need of actual control over a computer I physically can't get to.
3.) VLC | PC, Mac, & iOS | Free
VLC is a free and open source cross-platform multimedia player and framework that plays most multimedia files as well as DVD, Audio CD, VCD, and various streaming protocols.
Ever get this message below when trying to open a video file?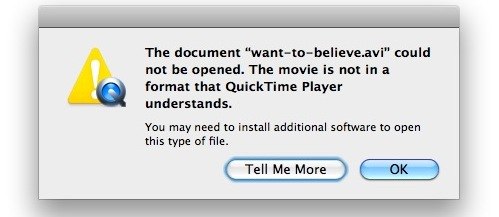 Well, you are in luck VLC is the solution to your problem. VLC supports playback from AVI, MKV, DIVX, and an assortment of other video file types.
4.) Dupin for Mac  & MediaMonkey for PC
One thing I simply can't stand is duplicate songs within iTunes. I have a large music library (100+ GB's) and there are plenty of occasions when I have run into the same song in library 3 or 4 times. Whether it's because I downloaded the single before the album released, then bought the album or bought the Greatest Hits, the fact is duplicates are bound to occur.
iTunes' "Show Duplicates" feature is helpful but you still have to examine every track to determine whether you want to keep or delete the tracks it finds. Smart Playlists are of dubious help and trying to locate all duplicates with them can be tedious as they can quickly crowd your Source list and slow iTunes down.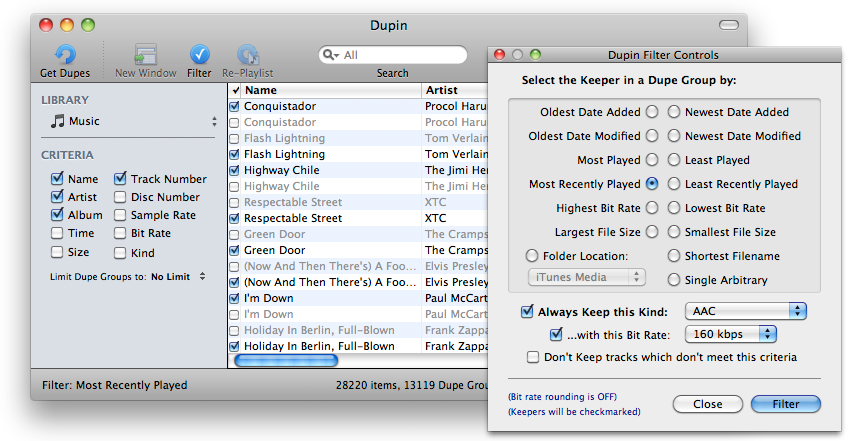 With Dupin you can:
Very quickly find all sets of duplicate iTunes tracks based on your choice of criteria
Select the "Keeper" tracks from among a number of duplicates automatically using a variety of versatile filtering options
Consolidate the play, skip, and ratings information from all tracks in a Dupe Group to the single "Keeper" track
Re-populate iTunes playlists replacing "non-Keeper" tracks with "Keeper" tracks
Remove duplicate tracks from iTunes and send files to the Trash
Manage intentionally duplicated tracks
Copy tracks to new iTunes playlists
View duplicates in non-loaded libraries created with iTunes' multiple library feature
View duplicates in iTunes libraries on other machines on your local network
Sort tracks and view track info
Export a list of duplicates to a text file
Locate tracks in the Finder and in iTunes
Unfortunately, Dupin is not available for Windows so in this case we would suggest a similar program called MediaMonkey, which can do all of the same tasks as Dupin.
Want more information about dealing with iTunes duplicates? Check out our post on How to remove Dupes!
5.) 1Password | PC, Mac, Android, & iOS | Purchase License
Password management is something that everyone who owns a technical device has to deal with. We have all been in the situation where we really needed that one password from some arcane ancestry site we went to back in the day, well in this case a password manager can be a major help. Agile Web Solutions' 1Password 3 is one of the best password management tools we've used. Several robust and powerful features make it nearly indispensible. Yet, at the end of the day, what we liked most was that 1Password did not change my daily computing habits all that much.