Have a large library and don't feel like sifting through all of it to find the duplicates? I feel your pain I have been plagued with numerous cases where songs get imported twice or you buy a greatest hits CD with the same songs as the artist's other albums. Luckily, Apple was prepared for this nuisance and created a feature in iTunes to show you all of the duplicate songs within your library.
How to display duplicate songs
Open up your iTunes and make sure you have your main music library selected and

not

a playlist
Within iTunes open the "File" menu located on the menu bar
Scroll down to the option "Display Duplicates" (see screenshot below)
After clicking on "Display Duplicates" you will see all of the current duplicates within iTunes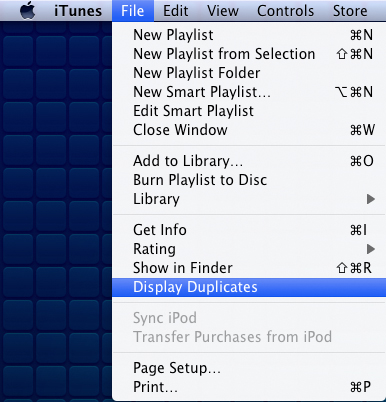 This method does not always work to find true duplicates of songs and will sometimes give you songs that are just very similar in name or artist, so you may want to try this instead:
Remove Exact Duplicates from Library
Hold down the Option/ALT key and go back to the "File" menu
By holding the Option/ALT key the "Display Duplicates" option will be replaced with "Show Exact Duplicates"
This method not cutting it for you? I do have another suggestion which is a app called
Dupin
. The creator's of Dupin go on to state:
iTunes' "Show Duplicates" feature is helpful but you still have to examine every track to determine whether you want to keep or delete the tracks it finds. Smart Playlists are of dubious help and trying to locate all duplicates with them can be tedious as they can quickly crowd your Source list and slow iTunes down.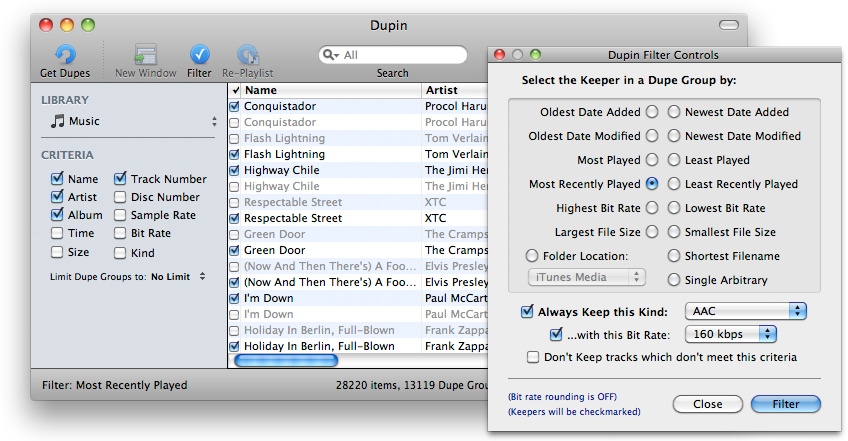 With Dupin you can:
Very quickly find all sets of duplicate iTunes tracks based on your choice of criteria
Select the "Keeper" tracks from among a number of duplicates automatically using a variety of versatile filtering options
Consolidate the play, skip, and ratings information from all tracks in a Dupe Group to the single "Keeper" track
Re-populate iTunes playlists replacing "non-Keeper" tracks with "Keeper" tracks
Purge duplicate tracks from iTunes and send files to the Trash
Manage intentionally duplicated tracks
Copy tracks to new iTunes playlists
View duplicates in non-loaded libraries created with iTunes' multiple library feature
View duplicates in iTunes libraries on other machines on your local network
Sort tracks and view track info
Export a list of duplicates to a text file
Locate tracks in the Finder and in iTunes
Audition tracks
You can grab Dupin by visiting DougScripts.com. There is a unregistered version* (direct download link) as well as a paid version for $15.00. I strongly encourage the paid version as it has made organizing my music extremely easy.
*The unregistered demo version of Dupin will display up to 20 sets of duplicate tracks per session and permit a single "Purge" operation per launch. All other features are unencumbered.