The same development team (Zentertain) that brought you our previously covered Facebox app now offers a similar app for checking your Gmail. Their new app, Mailbox, allows you to navigate to different Gmail pages, create emails, and view your Gmail dashboard, which shows all of your mail folders (Inbox, Drafts, Sent, and Trash). I would suggest this app to users who currently don't have their email setup in a separate mail client like Mac Mail. A benefit to using Mailbox by Zentertain over a standard email client is that it doesn't require you to configure any type of email settings (IMAP, SMTP, etc). You will only be prompted to enter your login and password for your Gmail account.
Mailbox is a one-click app, meaning you launch it, enter your username and password hit enter and your in. The Menu option present at left side takes you to Gmail Dashboard where all Gmail native and customized folders are lined up.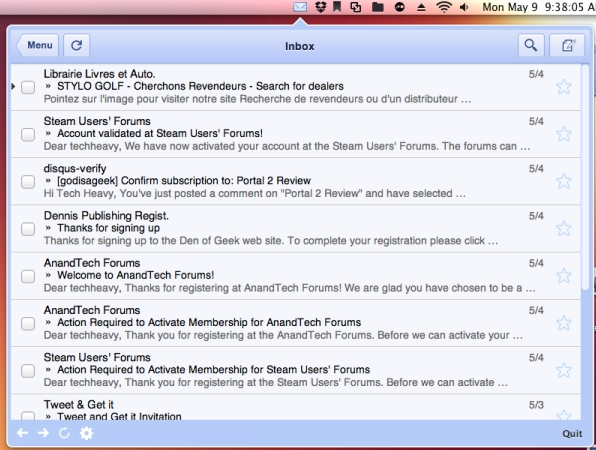 This is a great app if you want to have as much desktop space available as possible and eliminate using an email client.
Mailbox is available from the Mac App Store and will run on any Mac with 10.6.6 or later.
Also, be sure to check out an article we wrote a while back discussing other methods of getting your email on your Mac!