Personally, I can't stand having to keep another tab on my browser open at all times in order to access my Facebook Profile, Friends, Notifications, and notably the Chat. While it would be wonderful if Facebook developed their own standalone app for Mac like they have for many mobile devices, I have discovered third party software that can get the job done and it goes by Facebox. It's a lightweight Facebook client for Mac which hangs out in your menu bar, letting you navigate through everything from your friend's feeds, upcoming events, inbox, to shared and tagged Photos, and it even has chat window. This app, unlike many other Facebook clients, brings whole Facebook user interface to your desktop. All you need is to click on its menu bar icon to show your Facebook wall with options to open view Friends wall, Info, Photos, check notifications and more.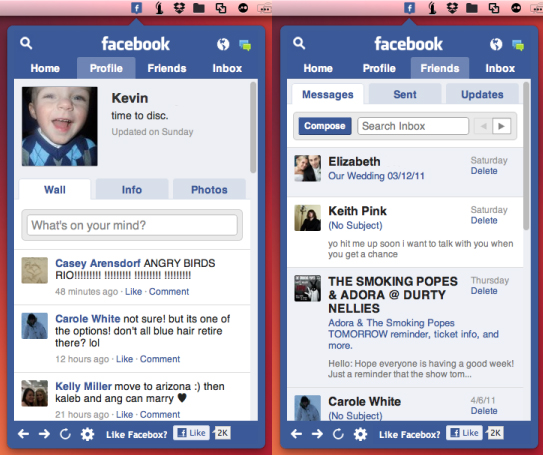 Facebox is entirely distraction free and it doesn't require any intense setup options to get caught up with. Once you've downloaded it from the developers website, launch Facebox to prompt your Facebook login. Once you've logged in, click the menu bar icon to open your feeds. From the settings, you can close Facebox and even allow it to start when your computer boots. Alongside the settings, you will find easy navigation button to browse through opened windows tabs and a refresh button to manually update the feeds.
Facebox is great overall but the chat integration could definitely use some work, I suggest using Facebox for your feeds/notifications and setting up your iChat to use Facebook chat, you can learn how to do that by visiting here.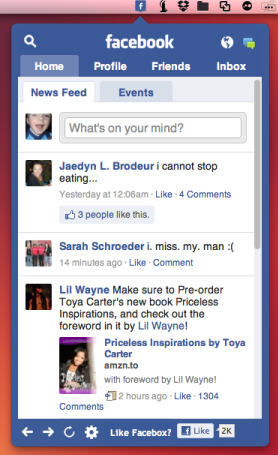 Facebox is free and currently only available to users running 10.6.6 and higher. Don't know what version of Mac you have, we can show you how to check. You can find the app within the Mac App Store or by visiting the following link.