Don't like using Apple's built in Mail application? Then we have a few suggestions for those who have Gmail and like to receive instant alerts when new mail has arrived.
Notify 2.1 by Vibealicious
If you are one of those people who access your email in a browser , then Notify is right up your alley. Notify is an email notifier which seamlessly fits into your menubar, only grabbing your attention when new mail has arrived. Notify currently supports multiple email accounts as well, including Gmail/Google Apps, MobileMe, Rackspace, and most IMAP accounts.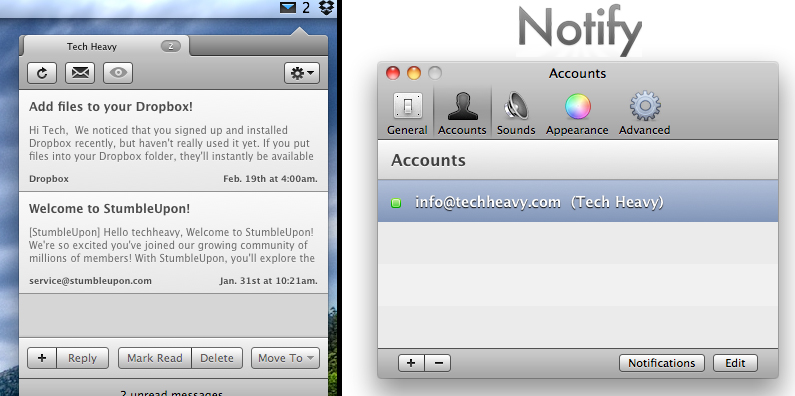 Notify is available in two different versions a free and paid license. While the free license is manageable for most basic users, those who wish to have additional features such as a full preview view to read the entire incoming email, the ability to mark messages as read or delete, and even the ability to respond to an email must buy the paid version.
Notify Pro is $10
Try the 14 day trial of Notify Pro!
Google Notifier by Google
Don't need all the features that Notify has to offer? Problem solved with Google Notifier, which is simply a notification system informing you of new email. Google Notifier is as simple as it sounds alerting you in your menubar when new mail has arrived. Clicking on any of the email alerts will take you to your browser and open the Gmail email panel.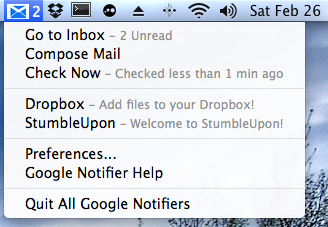 Google Notifier is Free from Google and works with Gmail as well as a Google Apps account. Download it now!
Google Chrome Gmail Notifications
A third method to obtaining Gmail alerts is to use the Google Chrome web browser. Once you have Google Chrome installed you can enable the email alert feature by going to your Gmail account at http://mail.google.com/ and modifying the settings (Gear icon > Gmail settings > General > Enable Gmail Notifications). You can see in the image below how we have it set up.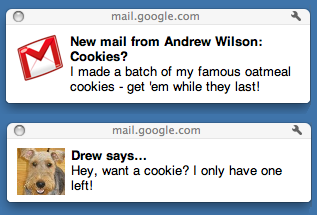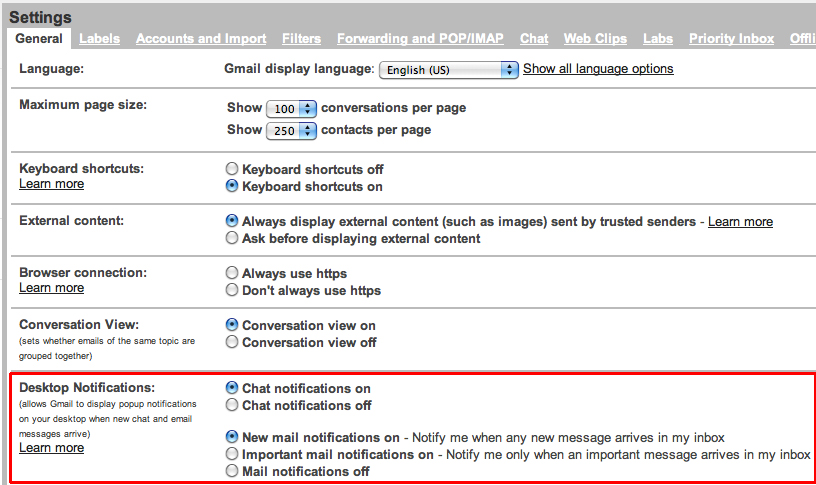 The downside to Chrome's Gmail notifications is that Chrome must be open with Gmail logged in at all times in order to get the notifications. Google Chrome Notifications are free.
Do you know more ways to get Gmail notifications on your Mac? Let us know in the comments!
All of the tips above are focused on alerts or notifications, if you are looking for an advanced method of managing your mail whether it be Gmail or another service check back soon to catch our post on Mail applications for Mac OS X coming in a few days.