Mac OS X Lion has arrived and if you are like me you are dying to upgrade to this new version. There are a few things you should be aware of prior to upgrading. Also, if you have no idea how to install Lion we can help you with that as well.
What to do BEFORE upgrading to Mac OS X 10.7 Lion
Before you even start any installations you MUST make sure your Mac meets the the requirements of the new operating system, which mainly means checking to see if you have a Core 2 Duo processor or higher, and at least 2GB's of RAM.
Here are the full requirements:
Intel Core 2 Duo, Core i3, Core i5, Core i7, or Xeon processor
At least 2GB of RAM
Mac OS X 10.6.6 or later with the Mac App Store installed
At least 4GB of additional disk space to accommodate the download, but more is obviously recommended
To find out your processor type, amount of RAM and current OS X version simply go to the apple logo in the top left hand corner of your screen then click "About This Mac." You will then see a box like the image below depicting all of the necessary information: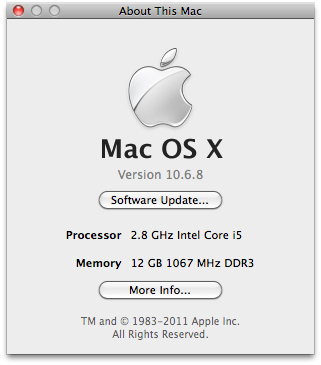 NOTE: Core 2 Duo is NOT the same as a Core Duo, if you have a Core Duo Mac (usually a Mac purchased before 2007) you will not be able to upgrade to Lion.
1) Upgrade to the latest software update and get the Mac App Store
To install Lion you must have the Mac App Store installed on your computer. The Mac App Store was introduced in software update 10.6.6, but I recommend upgrading all the way to the latest version 10.6.8 now. To do this simply:
Run Software Update and be updated to Mac OS X 10.6.8, this will also give you the Mac App Store (a new icon will appear on your dock).
Optional: Run Software Update again and get the latest "Migration Assistant" download if you plan to transfer data from a 10.6 Snow Leopard Mac to another Lion equipped Mac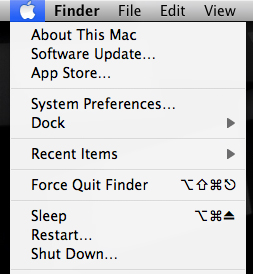 2) Verify App Compatibility and Update Your Apps
With an upgrade to Lion you are going to want to make sure that all of your apps are Lion-ready and will work post-installation. With this being said, most apps should be updated by their developers to handle Lion as they have had access to the operating system for over a month now to prepare. You will still want to go to your favorite app's websites and see if they will support Lion or not. Nothing is worse then upgrading then finding out an app you count on isn't going to be ready for Lion right away.
3) Backup your Mac and Data – HIGHLY SUGGESTED
The chances of something going wrong during your upgrade is slim but it's always better to be safe then sorry. There are a few different methods that can be done in regards to data backups, the easiest method is to use the built-in Time Machine app and let it run a full back-up. This is as easy as right-clicking on the Time Machine drive and selecting the option "Backup Now".
If that doesn't sound like your cup of tea you can also use a program to like Carbon Copy Cloner or Super Duper to clone your entire drive (this is actually what I will be doing). Please do your research before using these programs.
It's now safe to Install Mac OS X 10.7 Lion!!!!
Data backed up? Your Mac meets the requirements? Well, now its time! Installing OS X Lion super easy, no discs, no crazy instruction books, just a few simple clicks. Load up the Mac App Store and you will see the Lion banner right away (if you don't just go to the search bar and type Mac OS X Lion), once you click on the banner and get to the Lion page you will need to purchase the software like you do anything else from the Mac App Store,  once you have completed that you can simply click "Install." Lion is going to be a large file (over 3GB's) so depending on your internet connection it may take a while. Once it is complete you will begin the installation process, which will update your existing 10.6.8 installation to 10.7 and could take up 20 to 40 minutes, depending on the speed of your hard drive (Solid State Drives will make this step MUCH faster).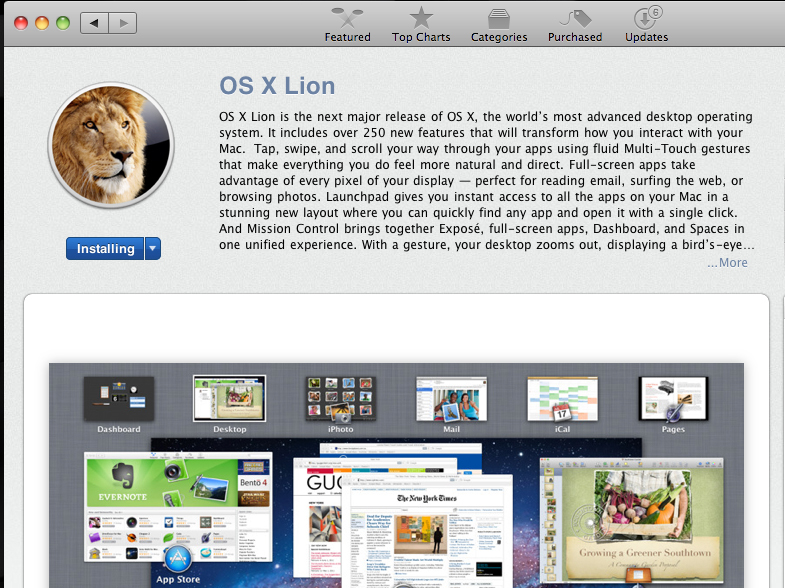 After you click "Install" you should see the Lion icon appear on your dock during the download!
Here is a direct link to Mac OS X 10.7 Lion in the Mac App Store
Good luck and let us know if you have any questions in the comments!