We recently had a few readers ask us what our favorite iOS Games were and while there are tons and tons of games currently available in the iTunes App Store, only a few stand out above the rest:
Angry Birds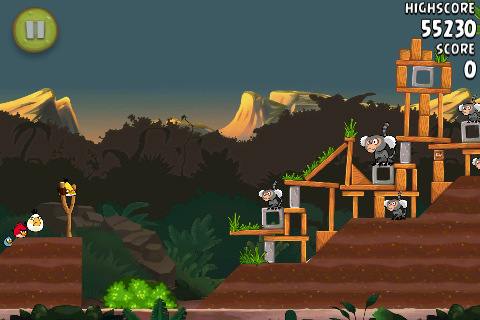 Chances are you already knew we would be listing this one. It's popularity has grown immensely over the last year, and you can now play it in your browser, as a PC/Mac app, on Android and iOS. Angry Birds is a very addictive game developed by Rovio Mobile, it is easy to understand but difficult to master. Angry birds acts as projectiles which allows you to fire them on green egg stealing pigs. It uses simple physics to target the pigs but the real challenge inside is to get out of Angry Birds world. It costs $0.99 in the App Store, and is a must buy game!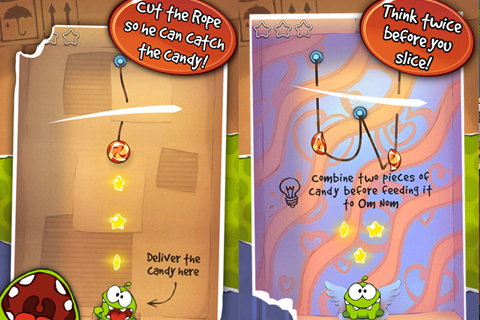 Cut The Rope
Another exhilarating game is Cut The Rope, where you have, Om Nom, a green monster who is a die hard candy lover and you must place the candy within his mouth to gain points. The candy will hang from rope which you will cut down so that Om Nom gets fed! This puzzle game is very addictive and takes quite a bit of strategy once you reach some of the higher levels. It is currently $0.99 and you can buy it in the iTunes App Store for hours of fun!
Fruit Ninja
Halfbrick studios has developed a very creative game for iOS called Fruit Ninja. In order to play the game you have to wipe your finger over the fruits (on the screen), by doing this you cut the fruit in two giving you points. Mixed up in the fruit you will occasionally incur a bomb or two, if you slice a bomb the game is over.  With this game you are also able to compete with your friends via OpenFeint, which is a mobile social gaming network. Fruit Ninja costs $0.99 in the iTunes App Store.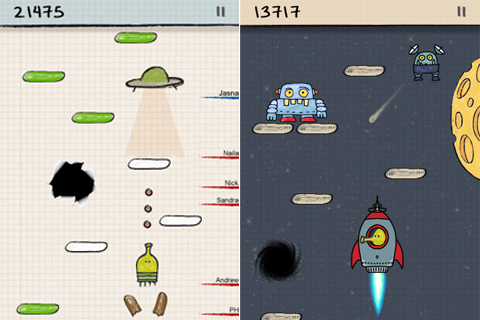 Doodle Jump
I can honestly say I have spent countless hours playing Doodle Jump. This game is perfect if you have some time to kill in a waiting room or sitting on the toilet doing your business. The strategy within this game is to tilt your phone or ipod to keep the little doodle character on the platforms. If he falls off the platforms and off the screen completely its game over. So you must maneuver your way up the screen using the platforms provided. Beware of the monsters and distractions that lie ahead trying to knock you off your path! This game is, like the others, only $0.99 and you can get it on the app store.
You will not be disappointed with any of the following games, all of us at Tech Heavy have spent more time then you wish to know on these games! I will try to compile a list of the staff's high scores of each game so you can try to best us!