For those who don't know, Boxee is a home theater social media center, which is offered as a all-in-one box (you can find it at Amazon or Best Buy) or is available as a software install for your current computer. I myself have installed the Boxee software on an older PC which now lies under my TV permanently.
With the new Boxee App for iPad you are able to watch any of your social media videos from services like Facebook, Tumblr, Twitter and even media stored on your computer.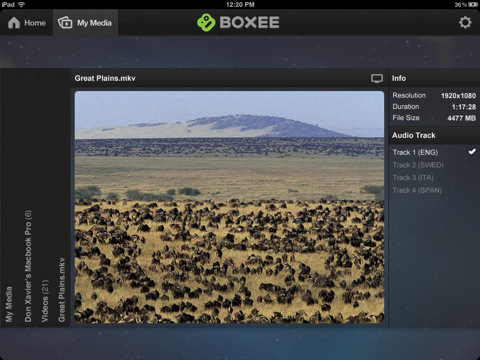 In regards to social media content, you can add items to a queue to watch later. For example, say your surfing Facebook and you find a couple videos you want to watch but don't necessarily have time or shouldn't be causing a noise ruckus (at work!) you can add them to your 'Watch Later' queue. This is even possible to do when your not using the app and may be on a computer.
I am particularly impressed with the interface that the app has to offer, it is very clean and is easy to navigate and I never ran into any delays or crashes.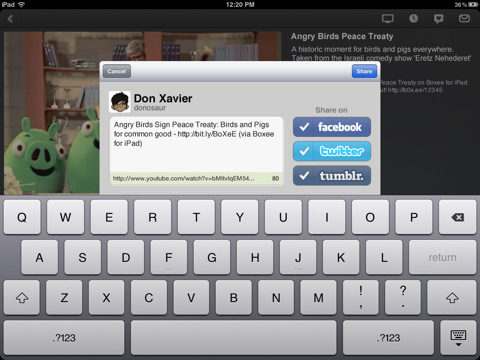 To use the Boxee app you must sign into your Boxee account, if you don't have one don't sweat it, you can register for free within the app itself when you first launch it.
Key features of the Boxee App:
Stream videos from your PC/Mac to your iPad over WiFi
It is an advanced video player — accommodating almost every video format currently available
Send videos to your 'Watch Later' queue
Send iPad videos from the app to your TV (if you have a boxee box or the boxee software installed on a pc which is connected to your TV)
My favorite— Transfer the actual video files from your computer to the iPad through the app, while connected to a Wi-Fi network
Social media integration — you can view or share videos to your Twitter or Facebook accounts instantly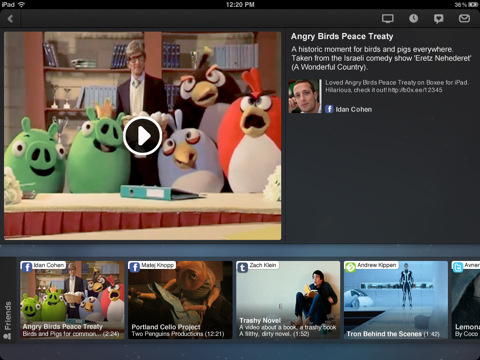 Download Boxee for iPad for free via the iTunes App Store (at the moment there is no iPhone or iPod Touch version)