Clear is a straight forward to-do list app with a very slick tap and swipe interface. Realmac Software created a simple, user friendly approach for to-do list management. Rather than bullets or numbers, with Clear, your to-do list items are color coated to show their importance overall and you won't find a single button within the app as everything is managed by swiping or a quick tap.
When I first saw the screen shots below I didn't think much of the app but after watching the introductory video I was simply blown away by it's flexible approach. This is an app that you don't have to spend time tweaking or learning how to use, it's almost too easy!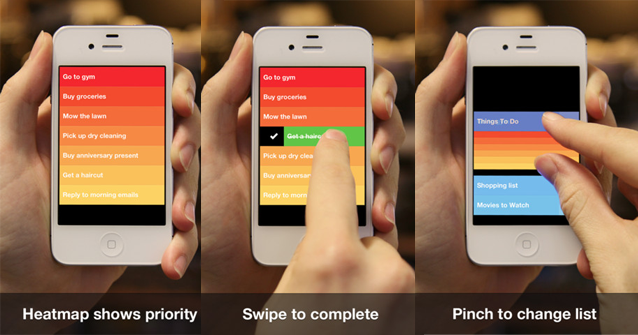 There is several features I wish the app did include like iCloud support, and Geofenced reminders, but as new app it still impresses. I look forward to see what additions Realmac might make in the next version.
Act fast and get Clear now for only 99 cents during it's introductory sale!
Check out the official Clear video by Realmac below, it is a full demonstration of the app: