Borrow or lend money to friends and family often? How about other things like tools, hard drives, cd's, equipment of any sort? Well now you can keep better track of everything with IOUMate.com. I received an email invite from IOUMate today when a friend had entered my email into the system since he owed me some money. At first I thought this was some sort of spam email but as I looked into the site further I found out it is actually a web service that makes it incredibly simple to track monetary or non-monetary debts.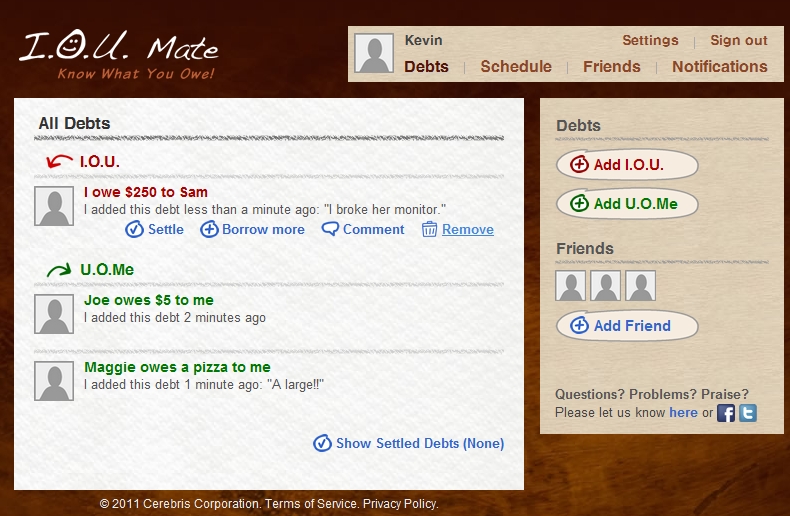 Of course, you can do all of this with a spreadsheet or a piece of paper but with IOU's web app you never have to worry about misplacing your info. IOUMate has two entry methods, I.O.U and U.O.Me, both of which allow you to add in a dollar amount ($5.00) or an item name (a pizza, or a screwdriver).
Like the email I received from my buddy you can invite your friends and family, where you can then both track your debts together. IOUMate has a great notification system so when you settle up with a friend and return the item you borrowed or pay them back the money you owed they get alerted. The service does not require your friends to sign up and you can use it by yourself without anyone else knowing if you choose.
As well as recording your daily lending and borrowing, you can also use it to keep track of periodic payments. This is anything from reminding yourself to pay your rent, to buying a birthday present for your mother.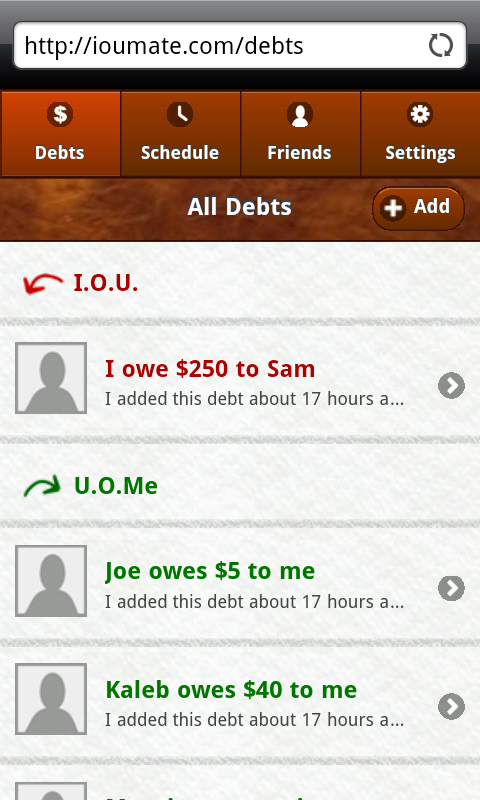 While IOUMate doesn't currently have an app for mobile devices, it functions great via mobile browsers. In fact, anything you do on your desktop web browser is available in the mobile web browser version as well. For those social media fan boys and girls IOUMate gives you the ability to sync your account with Facebook and Twitter and post debts to your wall/feed. I love the idea of this service since I struggle all the time to remember who I lent my power tools to, or a few bucks to for lunch, and now I can keep track of everything without spending hundreds of dollars on professional software.