Dropbox is a very useful tool that is becoming more and more popular.  It is very easy to use and easy to install.  You can go to http://www.dropbox.com/ to download it and from there it's just like a normal install.
The cool thing about Dropbox is it lets you access and share files from anywhere.  After the install, it will ask for a username and password which you will need for other things.  A Dropbox Icon will be at the Notification area (lower right corner) that you can double-click on.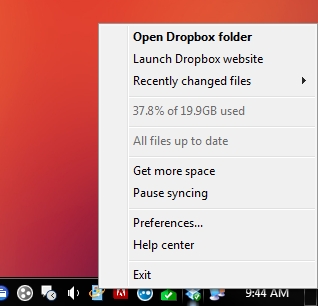 After you do that, a windows explorer window will pop up.  That is your Dropbox folder.  This is the most complicated part.  Anything you want to share, you just drag and drop into that folder.  That's it.  Now you can reach it from anywhere.  It is even compatible with your Smartphone so you can literally be anywhere.
Note: You can also reach it from the web and upload that way if you don't have it installed on the computer you are using.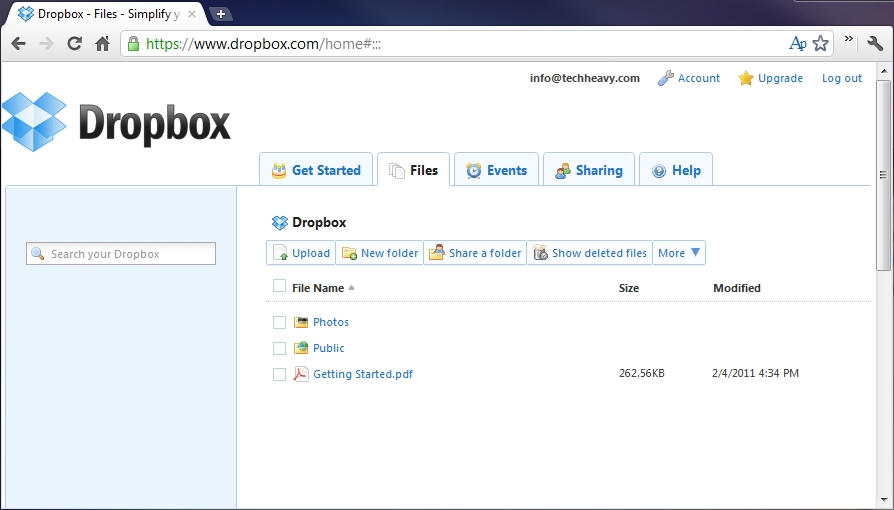 You can also share your files with friends, but they have to be Dropbox users.  You just create a folder in your Dropbox folder and right-click on it.  One of your options will be "Dropbox" with an arrow to the right of it.  If you go to that arrow more options will come up, one of them being "Share this folder…"  Click on that and a tab will open up in your browser.  It will automatically go to the Dropbox website to your account.  The first thing you will see is a dialog box about shared folder options.  Once you're here, just type in your friends email addresses in the first box and in the next you can include a "cute" message to each of them if you feel the need.  Then just click the bottom button "Share Folder" and you're done.  Doing that sends an invite to each of them that will appear in their Sharing tab which they can accept or decline if their jerks.
You can do the same thing on the website if you don't have it install on the computer you're using.  In your Files tab, click the button at the top called "Share a folder".  It gives you the choice of creating a new folder or using an existing.  From there, it's the same process.

To start out, you get 2 GB of space which can be increased to 8 GB if you refer people (250 MB  per referral).  You can also pay to get more space but if you're cheap then you can just refer people.  Also, if you have a student email address, you can get double the space per referral.  So you get 500 MB per referral for a grand total of 16 GB for free.  That's what I call an awesome deal.
There are also occasional special events that they hold to give out more free space but you will have to stay tuned for that info.
It is available for Windows, Mac, Linux, iPad, iPhone, Android and BlackBerry. GetDropbox.com
How to get more space for FREE!
 Visit dropbox.com/edu – If your a student or have access to a .edu email address you are able to get double the credit for referrals. So this mean 500MB per referral instead of the default 250MB. You only need to verify that you have an .edu email address by clicking a link that is sent to that address, so see if you can find a friend or family member who can do this quick favor for you, it's definitely worth it!
Visit dropbox.com/free – Here you can earn a total of 512MB of free space by completing various tasks like following Dropbox on Twitter, or connecting your Facebook profile with Dropbox.
Actively visit blog.dropbox.com – The Dropbox blog is mainly a place where the company will discuss policy changes or important updates to the system but they all will have a contest or two from time to time. There most notable contest being Dropquest (http://blog.dropbox.com/?p=659) Dropquest was scavenger hunt contest that gave away 1GB of free space to all who completed it and free LIFETIME Pro accounts for the top three winners with the fastest time.  We will be sure to post before Dropbox announces their next contest so you don't miss out!