SMS and text apps are dime a dozen in the app store, and they all require the same thing… TYPING! I must say of all the apps I have reviewed on this site this app alone is my favorite. HeyTell is a cross platform app that makes instant messaging convenient and quick. Just like a walkie-talkie you can send voice messages to your friends and family with a push of a button. The difference between this app and a walkie-talkie or the Nextel push-to-talk service is that the messages, in this case, are not live. You actually record a voice message and then send it to your friend where they can choose to listen to it instantly or at a later date.
To use the app first download it from either the Android Marketplace or the Apple App store (it's free) and install it. Unlike most chat apps you don't have to create an account (another plus), so when you have it open you can add a contact by clicking on the text field to the right of the To: label. This will bring up your current HeyTell buddy list and if you just installed it chances are you won't have any. You can fix this by navigating to your contacts at the top of this page, where you can then send invites to whomever you like. These invites are in the form of text messages that instruct your friend to download the free app to begin the conversation.
Android screenshot on the left and iPhone on the right: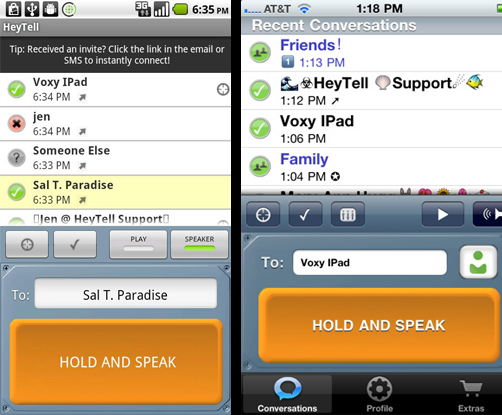 Once you have a friend accept your invite you can send a voice message by simply pressing the big orange Hold and Speak button and HeyTell will then begin recording your message until you let go of the button, similar to a walkie-talkie. As soon your finger comes up off the screen the message will be instantly sent to its recipient. This is by far the most convenient aspect of the app; you don't have to deal with the hassle of attaching the recording and sending it.
Like text messages you can go back at anytime and listen to previous voice messages within HeyTell, to do this just click and hold on the person's name (the name that has the green check mark next to it, not the TO: field).
Besides the voice message functions, HeyTell offers a few extras like a Voice Changer (for $1.99) and a Group Voice Message add-on (for $2.99). I have found the Group Voice message one to be the best add-on, it is handy when I want to broadcast a message to everyone rather then repeat it 5 times to 5 different people. Example: Everyone come over around 9pm we are having a party, and bring your own beer!
HeyTell is currently free to use so grab it now from the Android Marketplace or the Apple App store.
Check out HeyTell.com for a LIVE example of how the app works!