For some strange reason Apple decided to hide the User Library folder from us by default. While the typical user won't be accessing this folder much, if at all, a lot of us developers and tech-savvy kids need to get under the hood and tweak some various things within it from time to time. So if you are in dire need of access to the Library Folder and recently upgraded to Lion here are a few tips for you.
Quickly enter the Library Folder
You have two options that can get you into the Library folder in a hurry. First, open Finder and direct your attention to the top menu bar where you will need to click the "Go" drop down menu. You will now see the drop down menu containing things like All My Files, Documents, Desktop, etc., but you will notice no Library option appears. With the "Go" menu still active hold down the "Option" key, this will show the Library folder instantly.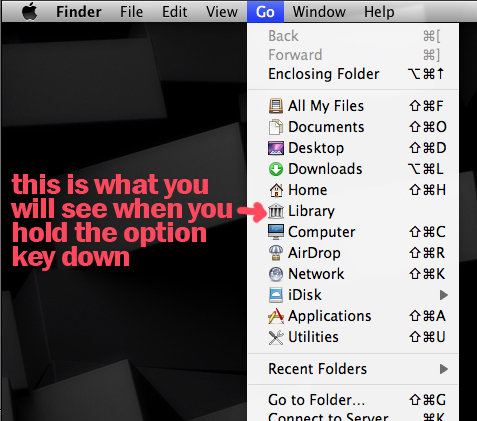 The second method involves opening finder and pressing the following key command: Shift+Command+G (or you can go to the menu bar > Go > Go to Folder). This will open up the 'Go to Folder' prompt allowing you to type in the path to the Library folder which is /Library/ then hit Go and the folder will open right before your eyes!
Use Terminal to Permanently Un-Hide Library in Finder
If you want to view the actual Library folder at all times in your Finder then this is the option for you. Open up Terminal and insert the following command:
chflags nohidden ~/Library
Once you have hit enter you will see the Library folder appear in your Finder just as it was in Snow Leopard.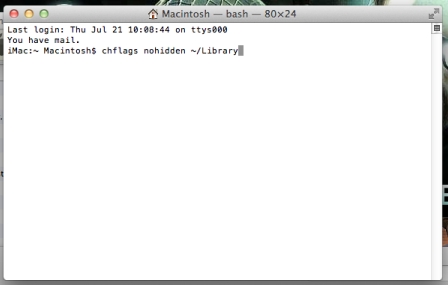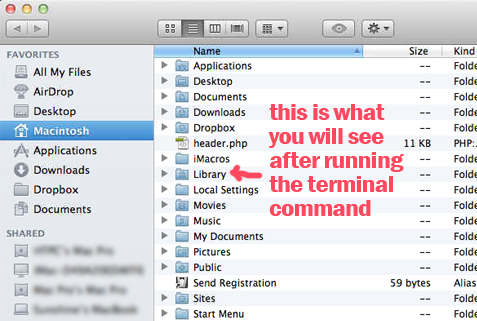 If we uncover any other easy methods we will update this post!