Want to use Facebook outside of the browser? Then FlipToast is the Facebook desktop client you can count on to deliver you your content. While you can find numerous desktop clients for Facebook, it's hard to find one that incorporates live notifications as well as the Facebook chat feature. FlipToast delivers you all of your updates in real-time, whether it be a comment on your wall, a photo tag, status update, or photo album addition, it will keep you up-to-date with your Facebook account. It also integrates Facebook chat with the ability to go offline at anytime, if you're not in the mood to chat.
FlipToast does its best to stay out of your way and take up as little space as possible on your desktop. While you can view your friend's updates, you can also create new content of your own directly from FlipToast.  It comes with a simple drag and drop photo sharing tool to allow you to upload photos to specific albums.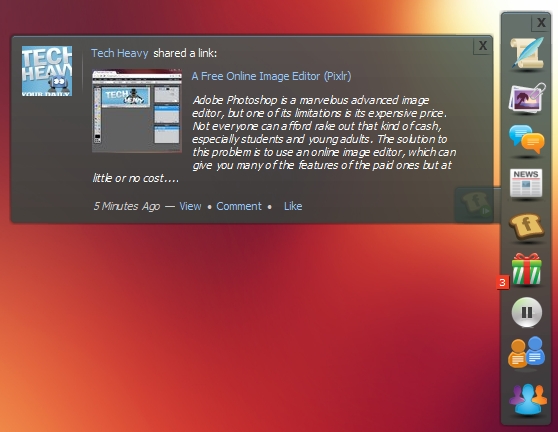 Once you have installed the app you will now be able to access it via the system tray, clicking on its icon will allow you to open the sidebar which is the main interface. At this screen you can turn on live notification alerts, update your status, upload photos, and more. You will be able to change the orientation and position of the sidebar via the Settings menu.
The first thing you will need to do to get Facebook Chat working is to click on its icon within the sidebar, this will prompt you to enable the service as (for your privacy) it is disabled by default. Once it's enabled, you can view your online friends and also decide to go Offline if you wish.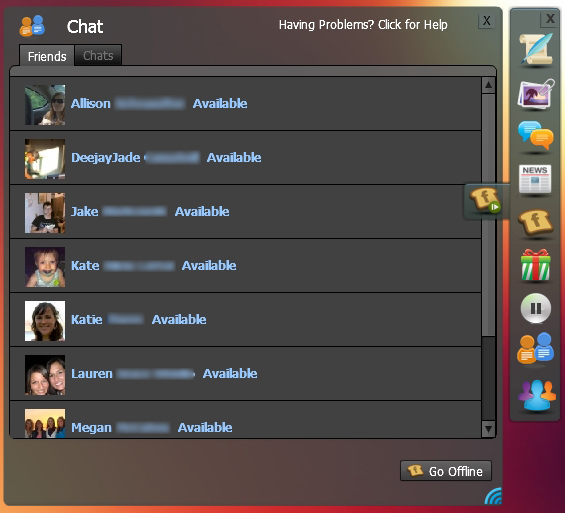 Before uploading photo set, you can create a new album. Click the cross-imaged button to specify new album name and hit Create. Now, just drag the images folder to begin uploading photos to newly created photo album.
Updating your status is extremely simple just click the status icon within the Sidebar and you will be prompted with a input field like the screenshot below depicts.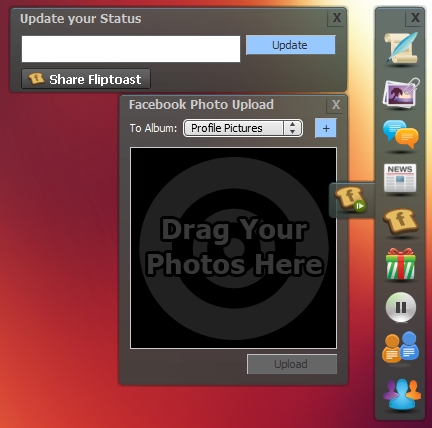 One of my favorite features of this application is the ability to toggle the live notifications on and off. This is extremely helpful if I am going into a meeting or working on an important document and do not want to be distracted.
FlipToast is definitely my favorite desktop client and that fact that it is available for Windows and Mac makes it even better. Check out this sleek little gadget now it's free!