Slimkey Stand by Macessity
This low key stand allows you to tuck away your keyboard when not in use. This not only saves you precious desk space when you need it but provides better ergonomics for your back, neck, and eyes by raising the monitor (or iMac) up an additional inch.

Macessity offers two different versions of this stand a regular plain aluminum model and one with a built in 4-port USB2.0 hub. Slimkey Stand is $44.99 while the Slimkey with USB hub is $64.99, you can check them out here!
Backpack by Twelve South
The Backpack is a truly clever invention giving you the perfect place to host your external hard drive or other USB peripherals. Heck you can even use it as a shelf to show off a figurine or picture frame if your desk faces your door. The Backpack is made of heavy steel and comes with adjustable clips so you can place it anywhere on the back of the iMac stand. You can even use multiple Backpacks on one iMac!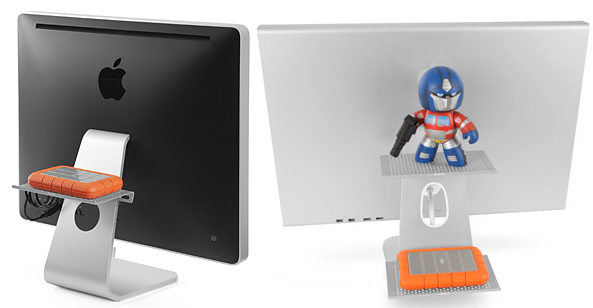 The Backpack currently runs at $29.99 and according to their website is available in Apple Store's as well as Best Buy's with a Apple department. It's important to note that the Backpack doesn't just work on iMacs but the Cinema displays as well, you can view all the machines it is compatible with here.
VESA Mount Adapter by Apple
Don't like your iMac sitting on your desk? No worries, we have you covered here. Apple offers a special VESA mount for your 24/27 iMac's and 24/27 Cinema Displays. This Adapter Kit allows your  computer or display to be used with a variety of alternate mounting solutions such as wall mounts and zero footprint articulating arms based on the VESA flat panel mounting interface. With a tool in this kit, you can remove the iMac or display stand and attach the VESA Mount Adapter. Then connect any VESA-compliant mounting solution with a 100mm x 100mm attachment.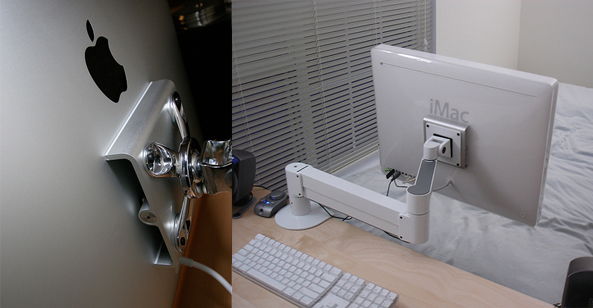 The kit is currently offered on Apple's website for $39.00.
ClearCal by RadTech
This is a great add-on for your iMac or display if you wish to eliminate the glossy display and improve screen visibility. Depending on the Mac you buy you might not have the option to have a anti-glare display and not only will this remove annoying reflections but also protect your screen from scuffs or scratches.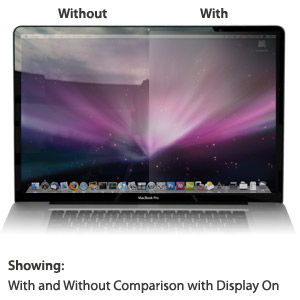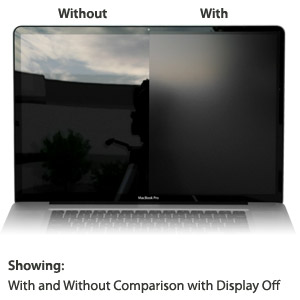 The ClearCal is available in sizes for all Apple displays and currently is priced between $19.95 and $39.95 depending on your display size.