Protecting your data, even if it is your own personal laptop that no one else uses, should always be your number one priority. Hackers, malware, or thieves are catastrophes that can affect any one of us at anytime, no matter how safe we think we are.
With this being said I would like to introduce a fairly new (Jan. 2011) Windows application, which I recently uncovered that can increase the security of your data without a hassle. LocK-A-FoLder is a simple open source security tool for locking down your confidential folders. What it does is applies a password to the folder in question to prevent your data from being easily accessible. Unlike, the time it can take to open data encrypted drives, locking and unlocking your folders with LocK-A-FoLder can be done in mere seconds. Another benefit of LocK-A-FoLder is it will, by default, hide the folder and keep it concealed even when you enable the 'show all files and folders' option in Windows Explorer.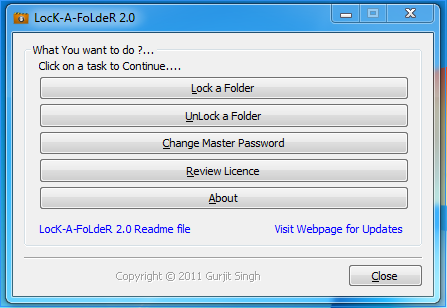 Since LocK-A-FoLder is a fairly new application, at the moment, it only has the ability to lockdown 3 folders at a time. You must specify the folders to protect and it will lock them immediately. Using the program is hassle-free, simply open the application and if this is your first time opening it you will be prompted to create a Master password. This master password protects the application itself from unauthorized access. Once the master password is created, you will be directed to the main window (the screen shot above).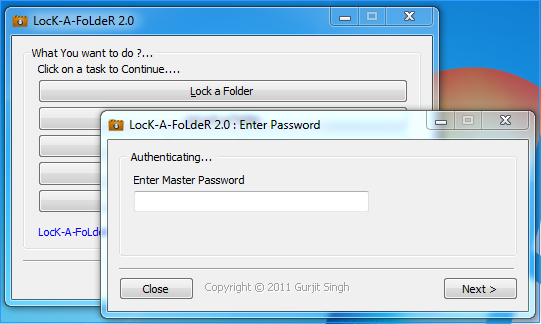 Now click on 'Lock a Folder' and enter your master password once again, then choose the folders you would like to apply your password to. Once the path is identified, click on the 'Lock it' button. Unlocking a folder is just as simple just click on 'Unlock a Folder'.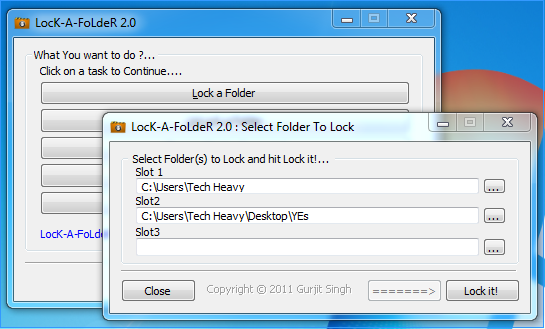 LocK-A-FoLdeR is currently free and runs on Windows XP/Vista/7 (Download here). If anyone knows of a program similar to this for Mac OS X, please let me know in the comments. I would love something like this for my Mac!