Today, we introduce some handy data burning software which supports a large array of disc formats. This software is called, 7Burn and is a feature loaded application for burning CD's, DVD's and Blu-Ray discs.
Your basic disc burners are a dime a dozen, so at first I really was hesitate about trying 7burn as I thought it would be another sub par application like so many others out there. I remember a few years back having at least three burners installed at once to manage all of my different tasks but with 7burn that has now changed. 7burn is my all-in-one burner that comes with the ability to create image files, erase rewritable discs, write to a disc, burn an ISO image, burn to an audio CD, and more.
One of my favorite aspects of 7burn is that it comes in a portable version where no installation is required. I can keep it on my flash drive or my external hard drive and take it with me on the go. Also, those of you worried about it being a memory hog can take a breath of relief because during our testing we were only able to get it to use 33MB, which was during the burning process as well.
7burn offers very little distractions, just simply add your files/folders, insert your media, let 7burn detect the media and then hit the 'Start Burn' button.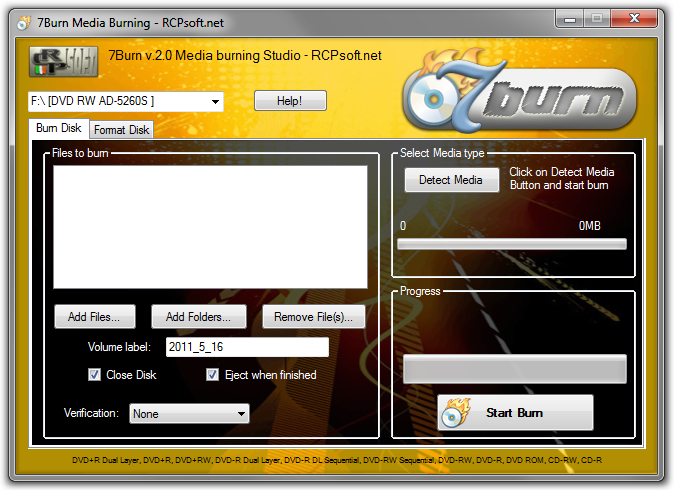 Building ISO images or using existing ones is very straightforward and shouldn't be a problem for even PC new comers. Navigate to the "Build Image" tab, add the desired files/folders and then click the "Build Image" button. Very easy!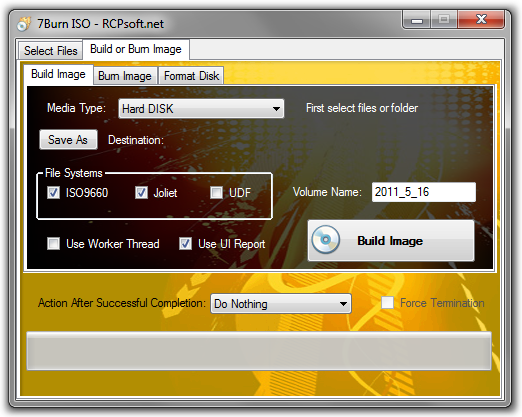 I managed to test out the Blu-Ray and DVD burning features without any problems what so ever but I did find one minor issue when burning an audio CD. I wasn't able to insert any audio file types besides WAV, which was a huge bummer since most of my iTunes library is MPA or MP3. If you would like to use this for audio burning I would suggest finding a audio file converter to convert your MPA/MP3 files to WAV format. I hope to see the developers add support for more audio types in the future.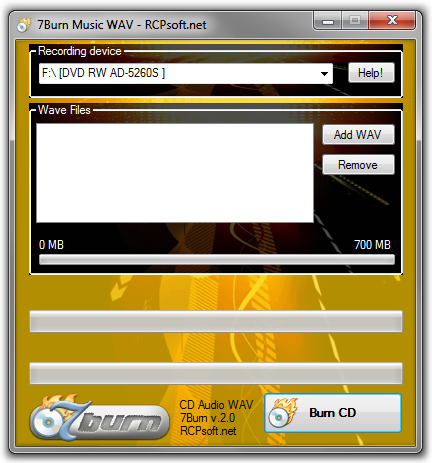 7Burn was designed to work only with Windows 7 through IMAPIv2. You can get 7burn for free via this link here. Also, be sure your computer has all the latest Microsoft IMAPlv2 updates by visiting their site here.