Free Time Tracker is a Windows application that can track the time you spend within specific applications. For a free app it's pretty customizable, allowing you to add in your own categories and view all of your statistics in a easy to read pie chart.
All of these features are geared towards determining the amount of time you have spent in the programs you use during the time the app has been launched.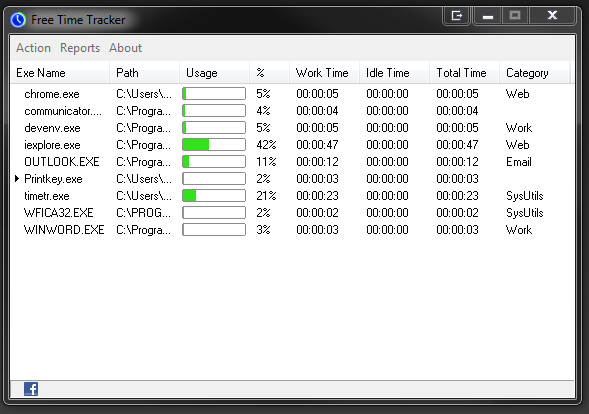 The app is extremely accurate as it only counts the time in use when the program window is active, so if you have it minimized or have another window active in front of it then the timer will stop for that program and start up for another.
The custom category feature is handy when you are trying to separate things like personal time and work time. You can determine if you spent more time on one or the other and then readjust your computing habits to be more efficient.  To manage these categories, navigate to the Preferences (within the Action menu button). You will be able to associate specific programs/file types to a category.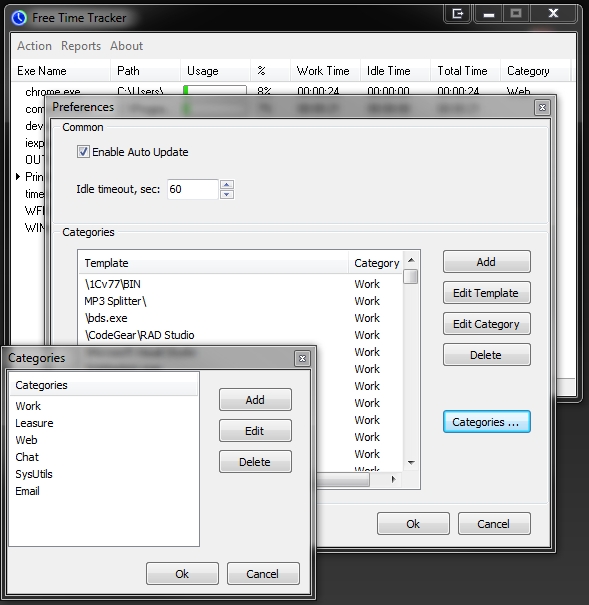 Once you launch Free Time Tracker it will begin tracking the time spent on all active programs. You don't have to worry about the app getting in the way of your other open applications because you can minimize it to the system tray. I myself on the other hand enjoyed keeping it up as almost a motivational tool while I was working. Seeing the numbers in front of me pushed me to get back to work more often. If this is your preference you can adjust the opacity of the app window so that you can still see the numbers and your other windows.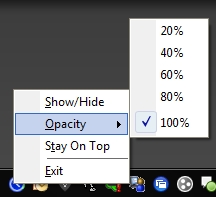 Free Time Tracker is compatible with Windows 7 / 2008 / Vista / 2003 / XP / 2000 / NT / Me / 98.  (Pretty much everything!)
For those Mac users out there check out Time Track available now in the Mac App Store for $0.99. A more in-depth look at that will be coming in the next few days.