Ever wish you could shutdown your system at a certain time or place it on a schedule without having to physically be there to hit the keys? I recently encountered a program to handle not only system start up scheduling but programs and files as well. I fell in love with this program a few weeks back when I was looking for something to launch two work related programs each morning.
Call me lazy or call me productive but when I get to work each morning there are a few programs I open the second I sit down in my chair as they are crucial to solving the problems I encounter throughout the day. So with Auto Power-on & Shut-down I can launch those programs five minutes before I get to work and by the time I turn on my monitor I'm ready to kick the morning in the go-nads.

While at work electricity isn't a big concern, but at home I'm turning off every bulb and device I can before I head off for the day and I also use Auto Power-on & Shut-down to keep my PC's on a tight schedule. I can have them manually hibernate or shut down a few minutes after I leave for work in the morning and have them power back on before I walk in the door so they are all ready to use (mainly my Home Theater PC).
Below you can see the scheduled task creation window and all of it's extensive options: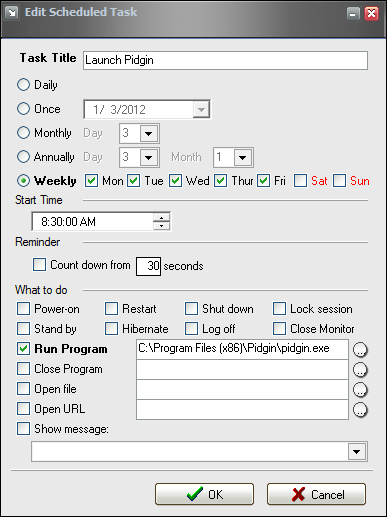 This screenshot shows my schedule task for launching my chat application Pidgin.
Heck, you could even use this as a reminder application, if you wanted to be alerted for an event/occasion, take medication, walk the dogs, etc., you can use the 'Show Message' option, which will display a pop-up on your screen at the set designated time.
Auto Power-on & Shut-down runs in the background hiding itself from your view (except for the little icon in your task bar) and can be set to run automatically during Windows startup if you so choose.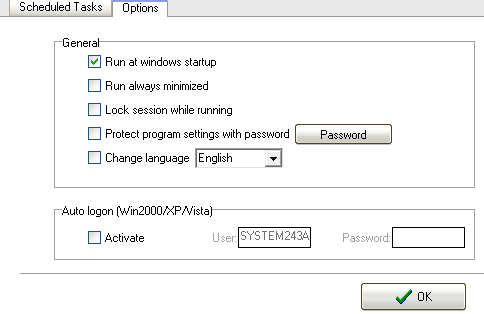 Auto Power-on & Shut-down is currently $24.95 but does have a trial version you can mess around with before making the final commitment. Supports Windows 98/ME/2000/XP/2003/Vista/7.
If you have any questions feel free to drop me a line below in the comments section!