If you're avid Google Chrome user like me, you may find this extension quite handy, assuming you also use Google as your email provider. The Snooze Your Email Chrome extension allows you 'snooze' incoming mail and set alerts for you to be reminded of that new mail at a later date.
I found out about this extension a few days back and have since fell in love with it. There are countless occasions when I am either writing a Tech Heavy article, working on some programming or even watching a movie and a new email arrives and interrupts me. While I do want to read the email I also want to finish what I am doing and be reminded of it at a later date, and this is exactly what Snooze Your Email does.
The extension integrates itself into gmail.com flawlessly, adding a new dropdown menu to the toolbar you see when viewing an email. You can see the Snooze menu in the screenshot below: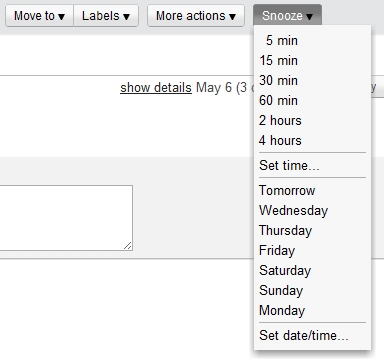 By far the best feature of Snooze is its integration into the Gmail desktop notifications that appear on when new email arrives. You can instantly when you want the to reschedule the desktop alert as the screenshot below shows. After you install this extension you will be taken to its settings menu where you can turn on the desktop notifications if they are not already on.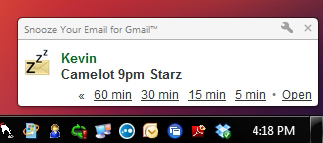 Snooze also gives you the ability to play a sound when your reminder alert pops up to notify you.
Snooze Your Email is for Google Chrome only and is a free extension, install it now!