With the help from WhatFont you can now determine what fonts are being used on a website as well as the font's basic attributes. WhatFont is a handy Google Chrome browser extension that is available for free at the Extension store.  This add-on hopes to make your life a bit easier as most users have had to open up the websites source code and skim through its style sheets in order to find the font information. WhatFont will even pick out and display multiple fonts scattered throughout a page as you can see in the screenshot below: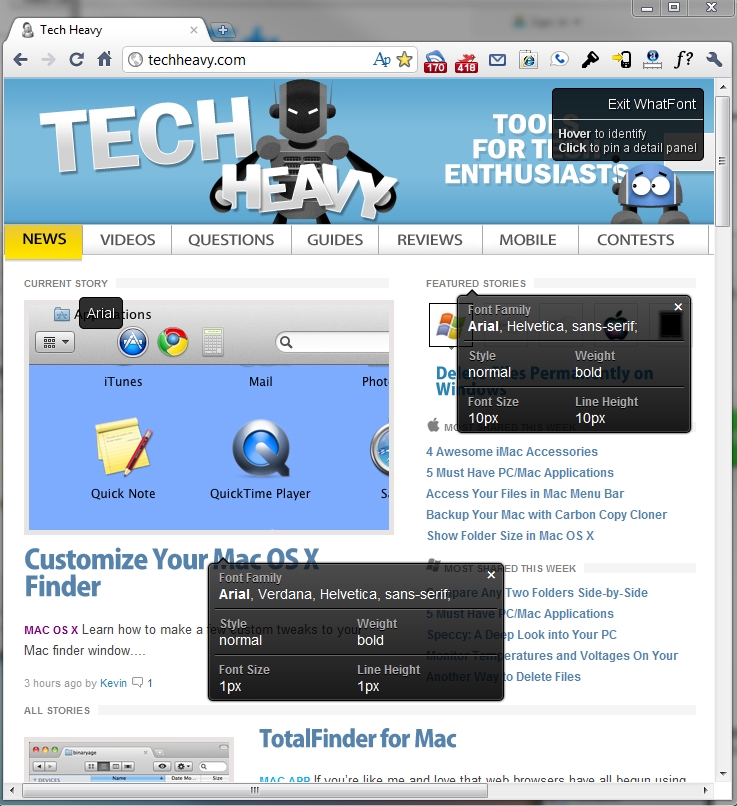 You can install this extension via this link, and once it is installed you will see the icon (looks like this 'f?') on your Chrome toolbar sitting next to any other extensions you currently have enabled. Clicking on the icon in the toolbar will activate the extension, once activated any font you hover your cursor over will display its font name. To list the specific attributes of a particular font simply left click on the text in question on the page. This will show a larger notification window displaying things like font style, weight, size, line height, and more.  WhatFont can recognize and give comprehensive details of all fonts used anywhere on a single page of a website.
Important: WhatFont does not identify fonts used within images!