We recently covered an application window tool which allowed you to turn your active window transparent with a single hotkey. Now we introduce to you an app that will make your windows translucent while dragging. This can drastically boost your overall work productivity especially when you are working with multiple windows at a time and want to know what is occurring in a underlying window or the position of other windows.
Liquid Drag is the application that handles this feature for us by sitting in the background and only activating itself once a window or application is moved around. The only duty of this application is to make sure the dragged window and the background windows become transparent.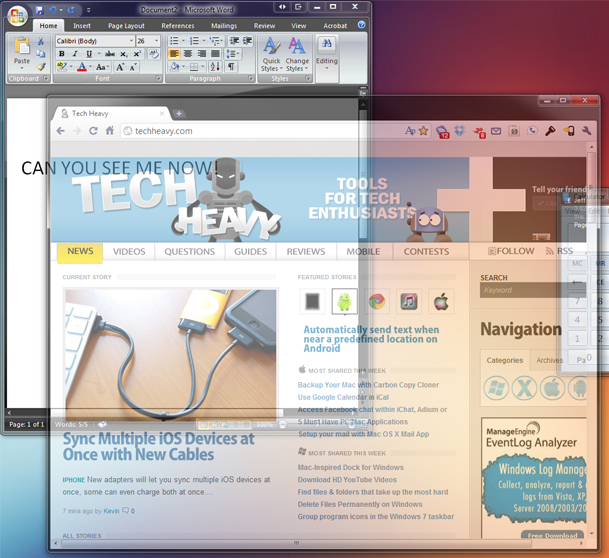 Liquid Drag has no configurations to set up nor does it offer an interface to permit or immobilize itself. This can difficult to manage for users who are not tech savvy.
To install, simply run the executable file, and once complete you will be notified that the app is running in the background. The key to activating the transparency is to hold down the secondary mouse button (your right click) while moving a window, your mouse must be dragging the windows as you right-click.
Unlike, See Through Windows (an app we reviewed previously), Liquid Drag does not have a hotkey feature associated with it to disable its functionality. In order to stop Liquid Drag from transforming your windows you will need to bring up the 'Windows Task Manager' and kill its running process. The process for Liquid Drag is "AppTransparency.exe." But let it be known that Liquid Drag will reload upon a Windows restart. In order to permanently disable it you will need to uncheck the "AppTransparency.exe" start-up entry using msconfig (Start –> Run –> type msconfig.exe –> OK –>Startup Tab).
Liquid Drag is said to use native Windows API to implement all its features, making it purely native and light-weight application with no idle-time CPU usage.
Liquid Drag is currently free and runs on Windows 2K / XP / 2003 / Vista / 7. Try it out!