Ever since discovering this method of transfer I have been able to quickly send websites that I am viewing on my computer to my mobile phone in seconds. I will be covering two different applications that both work for Android 2.2 phones and higher.
Google Chrome to Phone
Chrome to Phone gives you the ability to send links, maps, phone numbers and more straight from your Chrome browser to your cell phone. For example, say you are reading an article on your computer before work and are not able to finish it before hitting the road, with the push of a button you can send that page to open within your phone so you will have the article with you on the go. This is especially handy if you are on your computer looking up directions to a place and just hit the Chrome to phone button to send it those directions straight to your phone. No more struggling to remember addresses or having to type things in twice.
In order to begin you must first download the Chrome to Phone app for your Android phone, which can be found in the Android Market. Once installed choose the account you would like to register with (this must match the account you sign in to with Google Chrome to Phone Extension on the desktop). You can download the Google Chrome extension for your computer's web browser, here.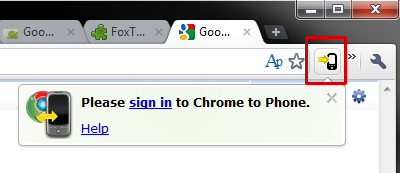 After you have installed the extension you will be prompted with a few on screen directions to finish the setup process. In order to send any page to your phone simply click on the icon (yellow arrow pointing to the phone) in Chrome when viewing the page you wish to send.
You also have the option to send more then just full webpages, the example below shows me sending just a line of text to my phone by right click on the highlighted text and selecting the 'Chrome to Phone' option.
FoxToPhone
Firefox users will be happy to know they have an option for sending links and text to their phones as well. FoxToPhone offers the same features as Chrome to Phone:
Send current page with address bar button
Send currently selected text (max 1024 chars) to the phone's clipboard with address bar button
Detection of Google Maps, YouTube, telephone numbers (performed at the Android App)
Firefox's version even incorporates some extra features:
Right click on any link/image/selected text to send to your Android phone
Drag and Drop link on the toolbar icon
Send desktop clipboard to the phone's clipboard via toolbar button (text only)
You will notice the FoxToPhone icon appear on your toolbar once it is installed, upon your first click it will ask you to link to your Google account.

FoxToPhone uses the same Android app as Google Chrome, which you can find here. Don't get confused by the name it will say Chrome to Phone in the market pace but it syncs perfectly with Firefox and FoxToPhone.
The screenshot below shows the ability to select any text on any webpage and send it straight to your phone.