Just like your paper files at home, your files within your phone need to be securely removed/shredded. Imagine a piece of paper with all of your personal information on it and you just rip it in half and throw it into the trash. What's stopping some dumpster diver from finding it and putting the two pieces back together? The same thing pertains to the data you delete on your phone, your hitting the delete key, but pieces of the file are still left behind. These pieces can then be used to reconstruct the file you that you didn't want to see the light of day again.
Now we have found an app called SHREDroid, which will securely delete the files in question by deleting the files and then writing over them so they cannot be brought back.
SHREDroid allows you to set a time interval for when you would like the deleting to occur. This is a background service so you won't even notice it running, and will even do the deleting when your phone is locked.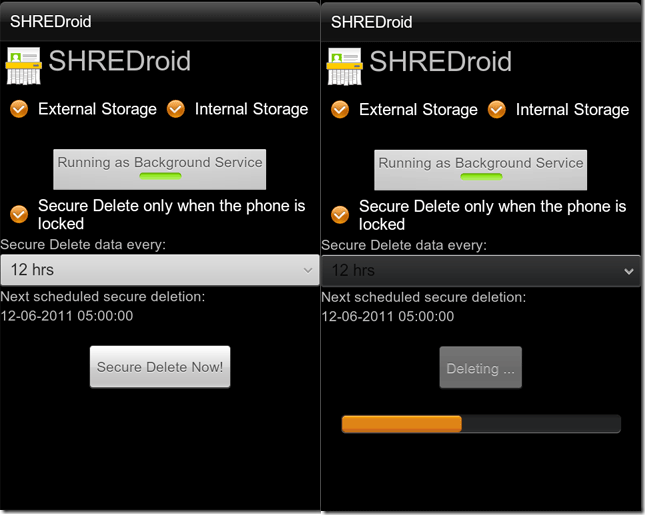 We decided to give this app a try and use a timer to see how long the process would take. We used a HTC Evo 3G and the first wipe after downloading the app took nearly 3.5 minutes to complete. A day later we tried again and this time around it took only 30-45 seconds, so it appears if you haven't used the app and let your data build the longer the wipe will take.
SHREDroid is currently free and available via the Android Market here..or by going to the Market app on your phone and doing a quick search. Protect your personal data now!