One of my favorite apps in Mac OS X is the native Mail App, it has been one of the simplest mail clients to configure and use. There will always be a third party mail client that will have one or two features I wish Mail had but today one of those changes. The current Mail app opens each message or mailbox separately in a new window, eventually cluttering up your desktop. With MailTabs, a small plugin, you can bring a tabbed interface to your Mail app. With MDI based UI, you can view and manage multiple windows under one place without having to manually adjust them at different corners of the screen. MailTabs does in fact provide the best way to organize different message windows. You can compose a new message, reply to emails, forward messages and do anything related with emails under the tabs. According to the developer, you also have the ability to save the session, so the windows you have open can be restored back when launching the Mail app.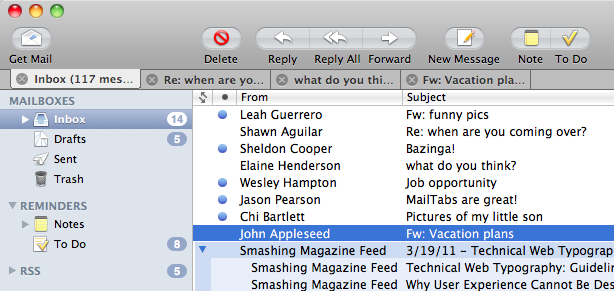 MailTabs is simple in the sense that it doesn't require you to configure any sort of settings nor do you have to set the tab arrangement.
The first step you must take before installing the plug-in is to make sure that the Mail App is not running in the background. Once installed, launch the Mail App, you will see a tab bar underneath the toolbars. If for some reason, tabs are not displaying in a proper way, you have to restart the app to make newly integrated tab bar adjust properly.
The developer has kept us up to date with the future of MailTabs by stating he plans to update it in the near future with extra keyboard shortcuts.
MailTabs is currently free and works on Mac 10.5.8 and above. You can get your copy via the developers site here.