One of the features of Windows 7 that gets pretty good reviews is the window preview, you access these by hovering over items in the Windows task/start bar and a little preview of the minimized window is shown as a pop-up. With a little utility called HyperDock, you can get this same functionality on your Mac Dock.
HyperDock includes window previews (see screenshot above if you're not sure what this would look like), some advanced window management features, and you can even control iTunes and iCal through the preview windows. I tried it out and it works as advertised.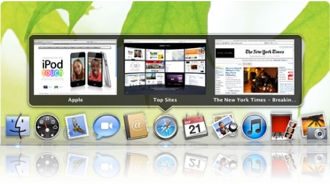 If you want this sort of thing on your Mac, check out HyperDock, it's free for now while it's in beta but is expected to cost money when the final version is released.