I normally don't waste any time with third-party game apps, typically the best experience is from the original creator of the game. For example, Words With Friends is a sure fire hit and with that success came loads of clones, and while they might be cheaper or have a few more features the game play is sub-par. I would normally advise you not to waste your money on these clones but then I fell in love with Dice with Buddies, a third-party Yahtzee style game that has completely mastered the multiplayer aspect.
With Dice you can play Yahtzee online with anyone that owns an iOS device (Yes, there's even an iPad version). If you don't have any friends with a iOS device, no worries, you can play random opponents as well. Dice keeps track of every game you play and compiles a nice list of your statistics so you can show off that high score or bad ass win ratio.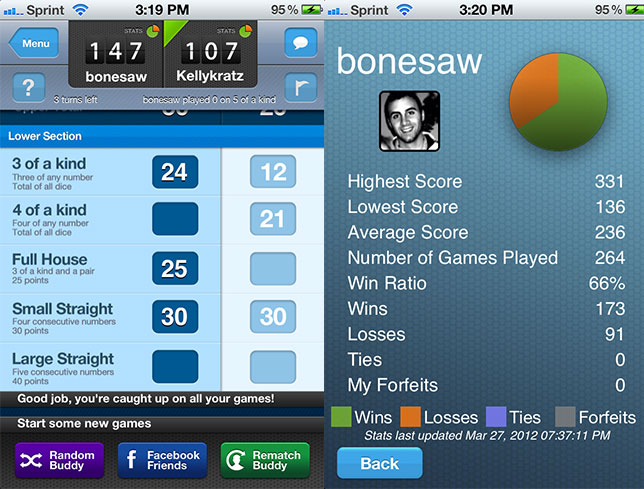 The game has push notifications to alert you immediately after your opponent has played and also has a 'Nudge' feature that allows you to send a reminder to your opponent if they haven't made their move in a while (or forgot).
Dice also offers in-game chat so you can send little messages back and forth without having to leave the app.
Dice with Buddies is definitely one of my favorite apps as you can see from the screen shots above I've played over 260 games and I've only had the app for about two weeks. To top it all off Dice even offers a leader board on their official website that keeps track of all-time high scores and win ratios.
Whats missing?
I'd love to see some Game Center integration, achievements for obtaining so many win's in a row, or for playing 100 total games, etc. Also, you can only get one 5 of a kind (commonly known as a Yahtzee), any more 5 of a kind's won't get you an extra 100 points like it does in the original game.
It's mind boggling that Hasbro hasn't added multiplayer functionality to their app, it seems to be the winning trend these days with iOS Games (Draw Something, Words with Friends, etc)
Worth every penny
Dice with Buddies has two versions sitting in the app store and they are identical in terms of game play but one is ad-supported and free while the other is ad-free and $1.99.