We all knew it would be coming at one point as technology advances but it looks like sooner then later. A feature left out of the keynote has been discovered, iOS 5: 1080p HD video playback! With iOS 5 going to the iPad 2, iPhone 4 and (rumored) Apple TV 2 they should all be able to access this awesome feature.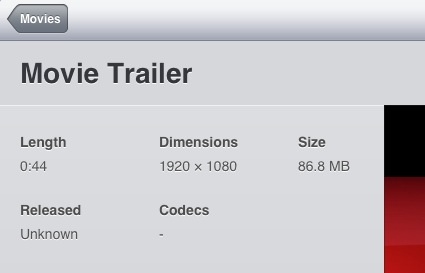 So why does 1080p playback matter on the small screens like the iPhone? Well, the key is iOS 5′s AirPlay video mirroring feature, which allows you to mirror your device on a TV or monitor. So if the device can do 1080p playback then you will be able to have that displayed on your TV or monitor.
The screenshot above shows 1080p playback on an iPad 2, and was found via 9to5mac.com, which also went on to say the "playback is very smooth and looks great" when they were doing their testing.
Now if only iOS 5 was coming out this summer!