Editing website style sheets can be tricky if you're new to the web development world. Even though understanding a class defined in CSS (Cascading Style Sheet) is not complicated, many users still find it challenging to edit style sheets and create the proper formatting. Simple CSS is here to simplify the conception and revision of an external CSS file. The application is written for both newbie's and advanced users, it will display the CSS classes in a sequence, and web developers will find this useful in quickly locating a class to edit.
For those who may not know much about web development this may help:
Cascading Style Sheets (CSS) is a style sheet language used to describe the presentation semantics (the look and formatting) of a document written in a markup language. Its most common application is to style web pages written in HTML and XHTML, but the language can also be applied to any kind of XML document, including plain XML, SVG and XUL.
With Simple CSS, you can either start from scratch with a cascading style sheet or import an existing CSS file to change the styles and formatting. Yet, the real usage can be seen when you need to edit a previously written CSS file – just import the file, and start editing the CSS classes in the same order as they are called in the respective HTML file.
The left sidebar of Simple CSS is dedicated to all the classes of the CSS file, while the main window contains extensive options to modify text, display, borders, and dimensions defined in the selected class. Also, there are dozens of pull-down menus available to let you easily change the attributes and to input new values.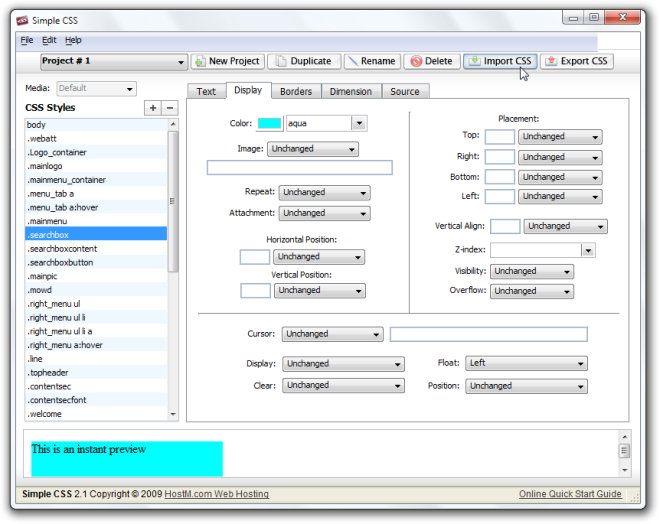 Creating a new CSS file is as easy as creating a new document in Word simply, click 'New Project', create the name of the file and your off! The program also enables users to create a duplicate file on the fly to keep original file safe if you are making risky changes. After you have created or edited the CSS file, just click on Export to save the file.
Simple CSS is currently free and works on Windows 98/NT/2000/Me/XP/Vista/7 as well as Mac OS X (Intel/PPC). Give it a test run by downloading it here.