If you run a website of some sort it is necessary to make sure that it does not have broken links, not only does this affect the quality of your site but can be quite frustrating for a user who finds links that lead to nowhere or give an error. Broken links, will in most cases, lead to loss of valuable visitors, deteriorate your search engine rating, revenue, etc and negatively impact your reputation. We have come across a program for Windows that can help you maintain active links.
Fast Link Checker (FLC) is an application that can be used for tracking broken links of any website (via the URL). FLC provides a user-friendly report for broken links in which you can save to a file in order to review and modify.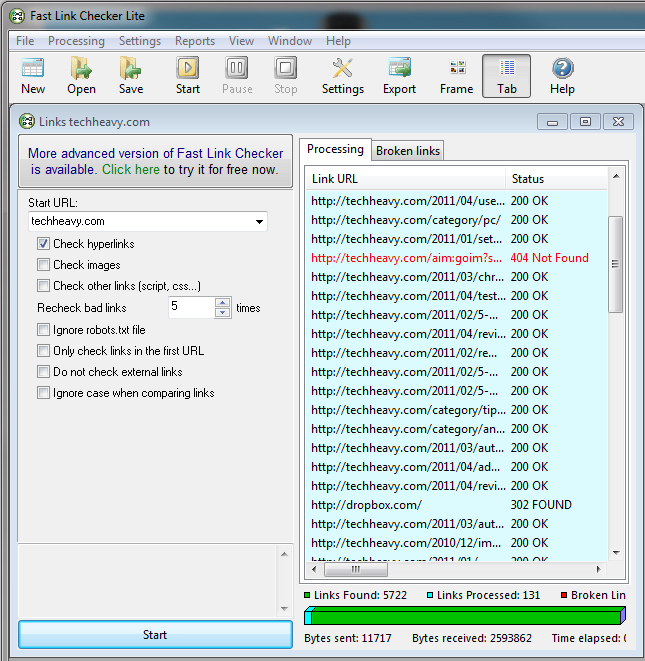 To begin checking a website for broken links, you must click the 'New' button from the top right corner of the application, then enter the URL and click 'Start'. This will commence the process of checking the website for out of order links. The process can be viewed in tabs or frames by selecting the particular option. FLC allows the user to abort, pause, or restart the scanning process at anytime from the programs top toolbar. Equally, the 'Export' button allows saving your results (scanned information) as a file.
The 'Settings' button can be used to view features like URL timeout, number of network connections, setting the maximum number of network connections to the same server, configuring proxy settings, managing file recognizable file extensions, and viewing/clearing cookies.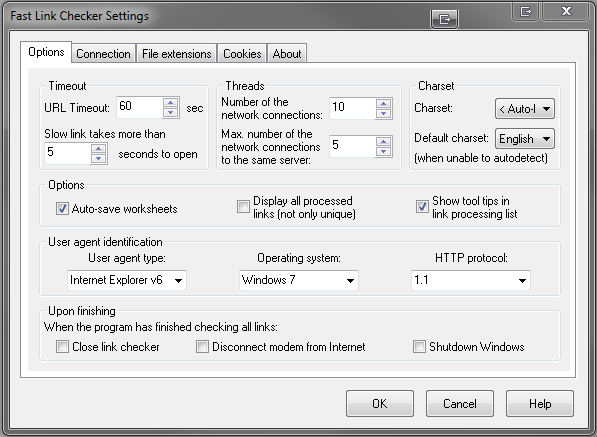 FLC is a great tool for monitoring websites for broken links and is available in a paid and free (lite) version. Unfortunately at this time Fast Link Checker is only compatible with Internet Explorer and does not support Firefox or Chrome for user agent identification. Nevertheless, Fast Link Checker is a particularly handy application for website developers to keep their website in tip top condition.
Try out the free version of FLC now. Fast Link Checker requires a Microsoft Windows 2000/XP/2003/Vista/7 operating system.