Download speeds can differ depending on your Internet provider and the time of day. For instance, you're going to have more users online on a weekday night (5pm-8pm) then you are at 3am in the morning. Download Scheduler is a little Firefox extension for those users who want to download large files (or any files) during off peak times, when the download speeds may be faster. It allows them to define a range for off-peak time, so that all the scheduled downloads can be started and paused at defined intervals. The extension integrates with a right-click context menu, letting you queue any download link in the download schedule list. You can also edit the link, add links manually, or cancel selected scheduled downloads later.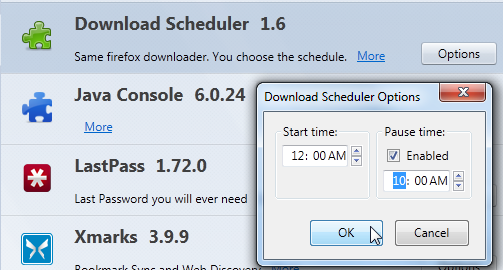 According to the developer there is not limit on number of downloads which can be collected in the download list, so if you're planning to download around 20 big files at night, schedule them up and it will handle the rest smartly. After the extension is installed, move to the 'Extension configuration' page and specify your off-peak time range.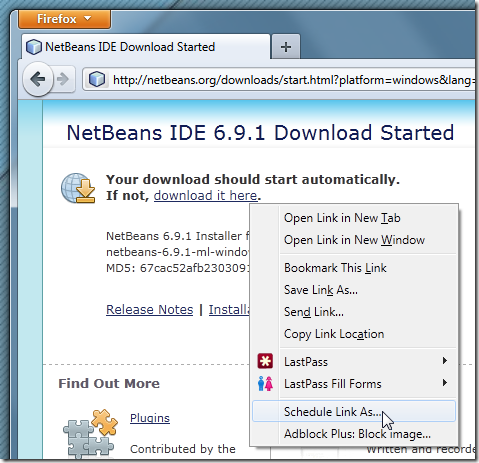 You can now queue up download links, just right-click the download link and select 'Schedule Link As' from the context menu.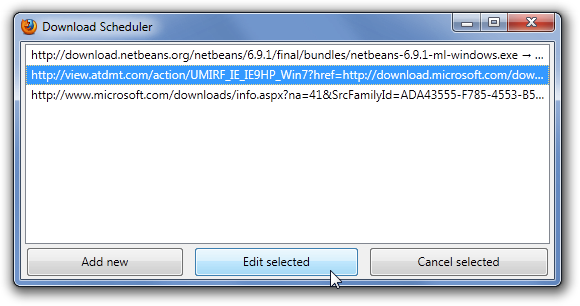 After adding the entire set of links into the list, you can view the scheduled downloads from Tools –> Download Scheduler. Here, you can edit the links, add new download links manually, or delete existing ones.