If you are not currently using a independent download manager and don't download enough to find a reason to use one then Download Profiler might be right up your alley.
Download Profiler is a Firefox extension, which allows you to setup 10 different profiles to save your downloaded files in their respective file type folders. For example, you're downloading a .jpg (image) you can have that file be sent to your images folder rather then your default download folder. This helps organize your downloaded files for easy navigation in the future. Unfortunately, Firefox's native download manager doesn't provide an option to specify different download folders to save music, videos, compressed archives, and other types of files separately.
It's important to know that Download Profiler doesn't replace your native Firefox downloader. It simply changes the download path according to the user-selected profile you created.
After installation of the extension, head over to the extension manager and open the 'Options' window of Download Profiler, this is where you will create your profiles for different file types.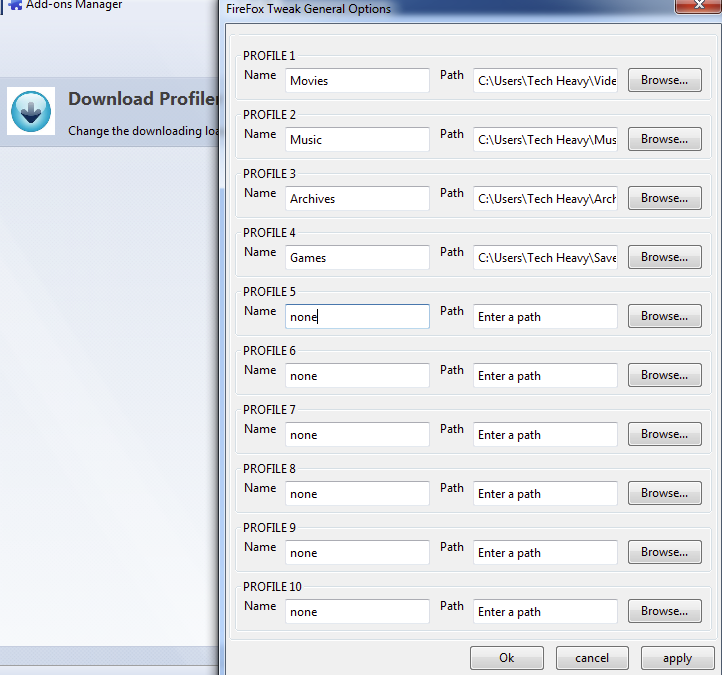 Define your download paths and then click 'OK' to apply the changes. Now that it is configured properly just right-click the download link of the file you wish to download and choose the Apps profile to replace the output path.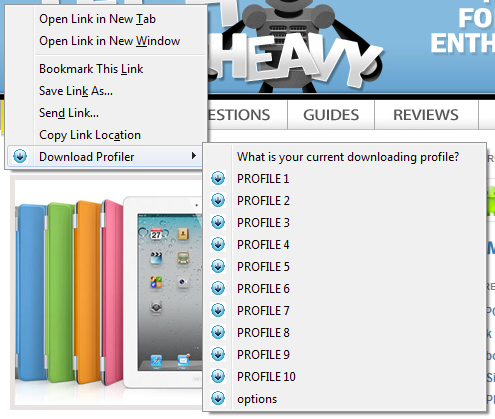 The file will begin to download saving itself in the specified Apps profile target path.

After testing this extension out for a few days I noticed one main shortcoming and that is no matter what you call your profile it remains as PROFILE 1, PROFILE 2, in the right-click context menu. Normally we would assume when we create the profile names they would also show up in the context menu, but we can only hope that it will be a feature included in the next update.
Download Profiler is a free extension via its developer and works with any and all versions of Firefox. Give it a try!
Note: If anyone stumbles upon something like this for Google Chrome please let me know, as I am a heavy Chrome user and would love this feature.