As the first rumors stated, the new Macbook Pro machines will in fact feature Intel's new Sandy Bridge processor. The box photo that you see below is courtesy of  MacRumors and confirms the Sandy Bridge addition with the listing of the "Intel HD Graphics 3000 processor" on the spec panel. This is one of the new integrated graphics solutions that Intel is using in its Sandy Bridge series of chips.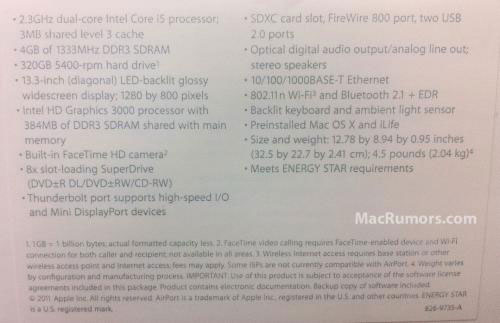 Spec highlights include:
2.3Ghz dual-core Intel Core i5 processor (Sandy Bridge)
4GB of 1333Mhz DDR3 SDRAM (faster than the old MacBook Pro)
320GB hard drive (no SSD on the base model)
Intel HD Graphics 3000 with 384MB of shared memory
1280×800 resolution (unchanged)
FaceTime HD camera (iSight has been re-branded completely, it appears)
8x SuperDrive (unchanged)
SDXC slot (the slot now supports the SDXC format)
FireWire 800 port
2 USB 2.0 ports
Thunderbolt/Mini DisplayPort (this is Light Peak)
The big surprise for those who have been following all of the Macbook Pro refresh rumors is the inclusion of what
Apple is calling Thunderbolt. This appears to be the Light Peak implementation that everyone was talking about. Light Peak is Intel's next generation connector technology that offers super-fast data transfer speeds, while also working with a multitude of different devices.
It looks like Apple is integrating Thunderbolt into its standard Mini DisplayPort, meaning the same port can power displays and act as a high-speed I/O connection.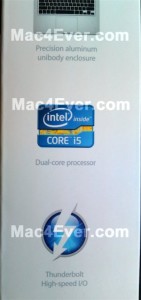 Remember: These specs are just for the base-model 13-inch MacBook Pro, so the specs for the larger models could be different.
As rumor has it these new models should be available on Thursday, February 24 — which incidentally, is Steve Jobs's birthday.