The recently released Kindle Fire has set the stage for a battle for tablet supremacy between itself, the Nook Color and the iPad 2. The iPad 2 is loaded with features, but more than double the price of the Nook and Fire, which are excellent devices in their own right. But this got me thinking about where the future of tablets is headed. Now that we've had time to play with our devices, what are we happy with and what must change?
First of all, the future tablets are going to be fast and powerful. Expect dual and quadcore processors to become the standards. Most technology begins as simple as possible and becomes exponentially more complex.
Quadcore processors will mean that running multiple applications to execute complex tasks will be even easier. It's not inconceivable that on the next generation of tablets you will be able to listen to music while surfing Facebook and editing a photo.
There is a school of thought that believes a mobile device is only as good as its app offerings and this is absolutely true with tablets. The Barnes and Noble Nook in particular could benefit from an expansion of app offerings. When it launched in April, the Barnes and Noble Nook App Store offered a measly 125 apps, and in the 9 months since its introduction, the number has risen only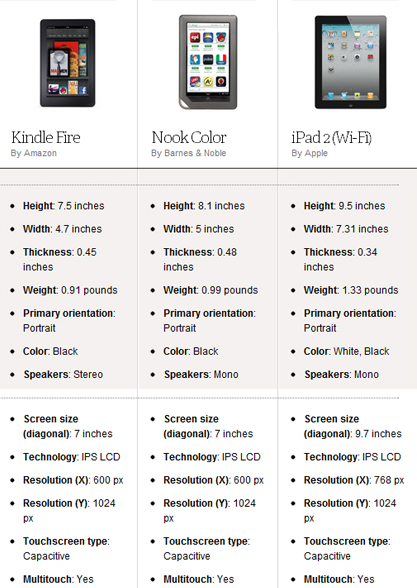 slightly. Even the iOS and Android operating systems' apps seem a little uncomfortable on the tablet so instead of porting apps that were originally intended for smart phones, I would like to see some dedicated tablet apps.
OLED screens are the wave of the future and I expect that it will be the new standard for the next generation of tablets. Apple's retina display doesn't look as crystalline as it once did and the Fire could use a boost as well. The Nook's screen is actually about as close to perfect resolution as I've yet seen from a tablet. In a recent test by DisplayMate it was found to be 28 percent less reflective than the iPad 2 and half as reflective as the Fire. That being said, you can expect the next incarnation of Barnes and Noble's device to be sporting an OLED screen covered in the highly effective anti-reflective coating.
As the collection of things that cannot be fit into a tablet-sized device continues to shrink, the future of tablets look more and more exciting. For now, we just have to wait to see what the future has in store.
Author: Melissa C.
Melissa is a guest blogger who loves playing with her Kindle Fire, trying out all the latest gadgets, and getting deals on those gadgets using Dell coupons for laptops.