Big fan of Snake or Tron? Then you will get a kick of this awesome little game called Hard Lines. Ever since the Snake blew the door off the gaming world we have seen numerous clones and copy cats, all trying to capture that addicting gameplay, well in my opinion Hard Lines has done it. Most games which use this 'light cycle' concept have had a tendency to add too many features and overload a simple idea but Hard Lines takes it back to a SIMPLE game that anyone at any age can pick up.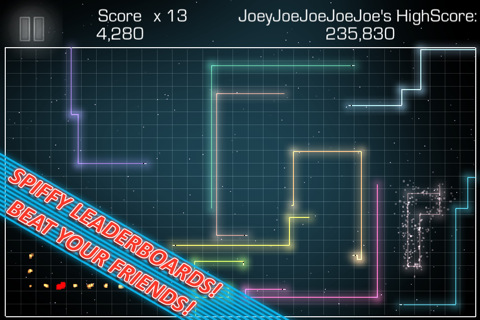 The game has several different modes, Survival mode, where you will struggle to avoid all collisions, to the massive Gauntlet mode, which pits you against tons  of other light cycles at the same time. You also have the ability to modify the timer settings in attack mode, you can have a timer that counts down from 3 minutes to zero, or one in which each kill will add time to your countdown clock.
While the game play is focused around survival you will also enjoy trying to obtain that high score you can show off. I bought this game a few weeks back when it was $1.99, and it's a wonderfully addictive game that I highly suggest to everyone. While they don't have an iPad HD version of the game yet I went ahead and gave it a try anyway and since the graphics are pretty basic it really didn't look too pixelated when blown up to 2x. You can check it out in my pictures below…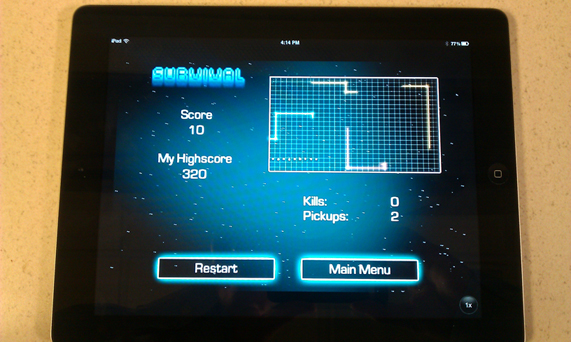 Why is it free today you might ask? Well, it's Andrew Smith's (the developer) birthday.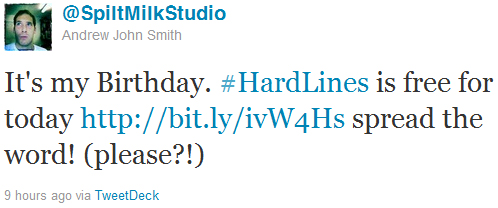 Go download this while you can because I'm guessing the price will rise back up very soon…
UPDATE: It is no longer free, it is now  $0.99, this is still a great deal for a excellent game!