The popular CleanMyMac application finally has a cousin to satisfy our PC cleaning needs. With the new CleanMyPC application you can remove all that unnecessary junk that builds up within your computer over time.
This specially designed program brings almost all the substantial cleaning options of CleanMyMac, plus other complementary features especially designed to track down and remove junk from Windows Systems. Once launched into the application, the program will ask you to scan your entire PC for junk files, as well as any files that are taking up the space on your external drives. CleanMyPC uses "native written definition databases to ensure sensitive data protection, and it will not attempt to harm your private data, such as, stored passwords, IM client message history, emails, and any other important files,"according to the developer. It comes with the ability to customize your file scan, you can set it to scan only particular types of files and disk drives from the main interface or your entire machine at once.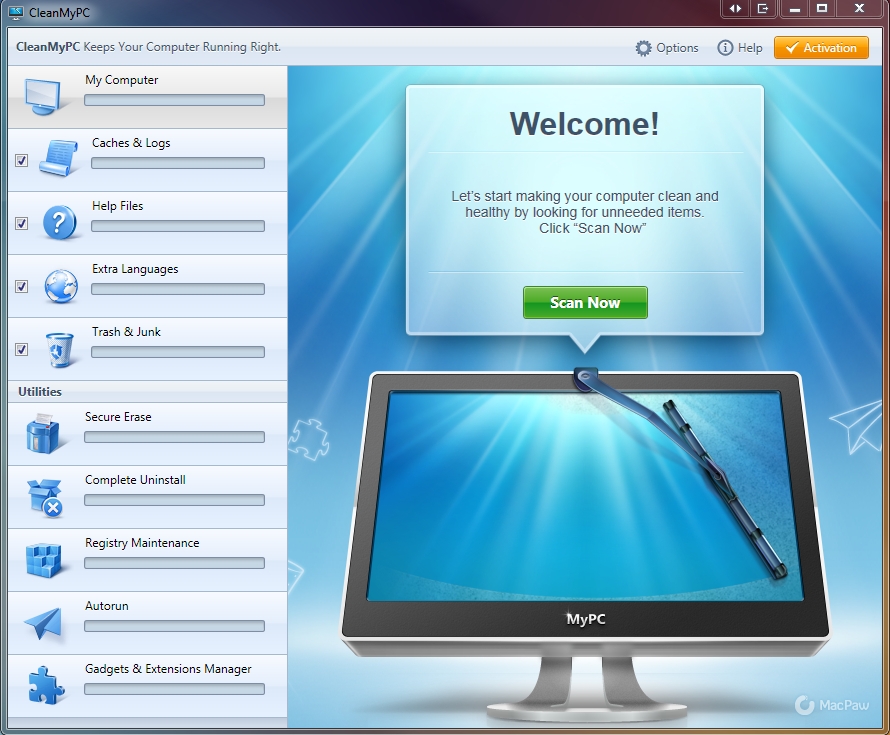 Scanning your whole PC is quite easy, you can either start out by right-clicking on the My Computer option and select Start Complete Scan, or you can scan specific sectors, for example, Caches and Logs, Help files, Extra Languages, and Trash. Once the scanning is completed, you are able to un-check any revelant files to prevent removal, add the files to the scan ignore list, or remove them from the list completely.

CleanMyPC Features:
1. Clean cache and logs
2. Remove help files and languages
3. Eliminate junk data
4. File shredder
5. Uninstaller
6. Registry cleaner
7. Startup manager
8. Gadgets and extensions manager
Along with CleanMyPC being very economical in removing junk data, it also permits you to maintain your system through different utilities. By clicking on the utilities category, you are able to open several helpful tabs, such as,  Secure Erase, to shred files and folders, Complete Uninstall, to remove applications with left over data, Registry Maintenance, to find and rid Windows registry in-discrepancies, Auto-run, to list down and alter auto-run programs, and Gadgets & Extensions Manager, to clean unused plug-ins and add-ons.
Not only will you be saving disk space by utilizing this program but improving the speed of your PC, there's really no better choice then CleanMyPC.
Unfortunately, unlike most of the apps we review here at Tech Heavy, CleanMyPC is not free, but does have a free trial, which you can grab here. Each user license for CleanMyPC costs $29.95.
System requirements: Windows 7, Vista, XP (32-bit or 64-bit, requires .NET Runtime 3.0), Pentium 1 GHz or higher, 512 MB of RAM, DirectX 9.0, 15 MB of available hard disk space.