I can't tell you the countless times I have had my iPhone stuck in Recovery Mode when trying to experiment with it. Chances are if you deal with iOS firmware updates, downgrade, or a jailbreak, you have had the same thing happen to you. How can you tell if you're stuck in recovery mode? Your phone will be frozen on the the classic USB to iTunes logo, and within iTunes you will receive the Recovery Mode detected message. If this is the case, use RecBoot to get you freed up.
RecBoot is available for Mac OS  X only and can be downloaded here.
Using RecBoot is extremely simple just…
Download and open it
Plug in your iPhone (or iPod Touch) to your computer
Then click on the 'Exit Recovery' button, DONE!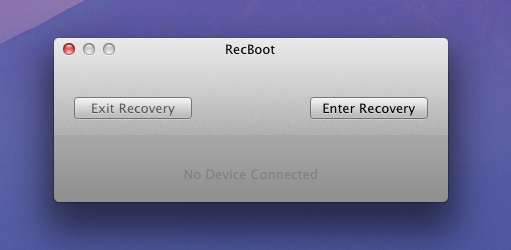 In addition to allowing you to break out of Recovery Mode, RecBoot will also allow you to enable Recovery if need be.
Also, if you're looking for something similar for Windows try TinyUmbrella. It comes with a few others iPhone unlocking features but is not as simple as RecBoot.