We recently discovered an application for Mac, Linux and Windows, that will allow you to rip your DVD's and Blu Ray's to your computer with ease. MakeMKV is currently still in beta but works like a charm when we tested it out this week.
Using MakeMKV is simple and effortless, simply select the source you will be working with (Blu-Ray or DVD) then select the output location (where you want the file to go when it has finished) and start MakeMKV. The hardest part of using this program is waiting for it to finish as Blu-Rays are fairly large types of media. DVD's, on the other hand, are somewhat quick to process; you should have a finished rip in about 20 minutes.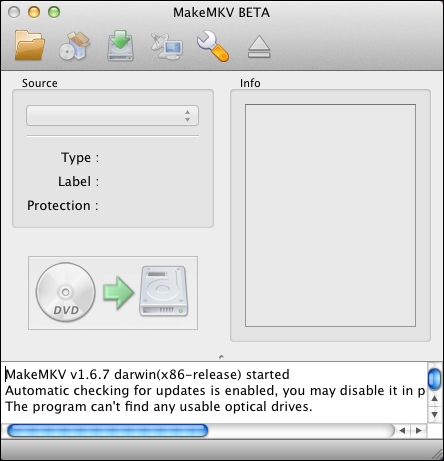 The overall features of MakeMKV include:
Will read DVD and Blu-ray discs
Will read Blu-ray discs protected with latest versions of AACS and BD+
Saves all video and audio tracks, including HD audio
Saves the DVD/Blu-ray meta-information (language, type of audio)
Saves the DVD/Blu-ray chapter information
NOTE: In order to rip Blu-Ray's you must have a Blu-Ray burning disc drive in your computer. Computers are just now starting to have these drives by default, if your computer is older chances are you have a DVD drive or just a CD drive. Most Blu-Ray drives come with DVD/CD support as well.
MakeMKV is currently free and works for Windows XP/Vista/7 (32 or 64bit), Mac OSX (10.5 or later), and Linux. You can get your free copy via the developer's site here.