File removing utilities are littered all over the internet and it is hard sometimes to pick out the useful ones from the spam/virus infected ones. For this post we installed the program in review and tested it to make sure it is safe and reliable for you (we do this with every software app we review).
Why would you want to use a file erasing utility you might ask? Well, it is important in some cases to eliminate the chances of recovering data from storage mediums in order to ensure data confidentiality (much like using a paper shredder in your home). Simply throwing items in your Windows trash bin doesn't prevent recovery software from digging that data back up again.
File Wiper is a tiny yet powerful file remover which supports four different file erasing algorithms to permanently eliminate files and folders. Using File Wiper is easy just drag them over the File Wiper created trash can that gets displayed on your desktop after you install the program and drop them on in. At that point the app will begin shredding the selected files. The present shredding techniques are based on a few different types of deletion passes, which include Quick erase (1 pass), Normal erase (2 passes), Secure erase (3 passes), Maniacal erase (7 passes).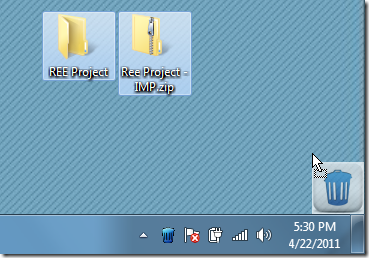 Once you have downloaded the app, run the exe file as you would for installing any type of program. After the installation process completes you will notice a new icon sitting in your system tray. The on-screen trashcan appears over your system notification area. Before you begin erasing your files and folders, you should right-click the File Wiper system tray icon and select the shredding technique, i.e., number of passes to perform deletion process.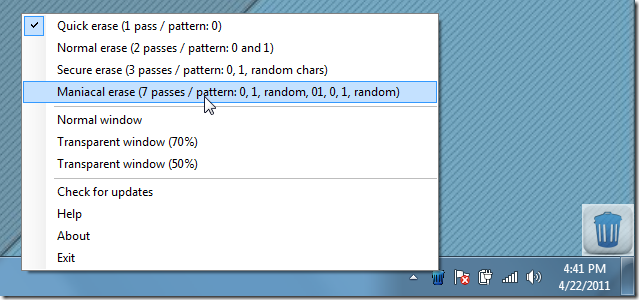 NOTE: The erasing methods with more passes will take longer to complete, and will take up a few system resources while running.
File Wiper is currently free and works on Windows XP/ Vista/7. Get your copy here.