I don't know about all you other Android owners but I love having my Wi-Fi enabled when I am at home, I have poor reception at my house and the Wi-Fi takes care of that issue instantly, unfortunately it also drains my battery faster than fat kid eating a popsicle. So I am left scurrying to my computer in order to keep my phone charged and internet-enabled.
We have uncovered a free application on the Android Market that handles this whole process with ease. The Wi-Fi Automatic app allows you to auto-enable your phones Wi-Fi when the device is plugged in for charging via the USB cable. The app will then disable the Wi-Fi connection whenever the cable is disconnected. This app has been available in the marketplace for a while now and we are simply bringing it to the attention of those who are still unaware of the tool and are fond of apps that do the heavy lifting for you.
The interface of the application is exceptionally simple. Tapping the toggle button enables or disables the background service that checks whether the phone is plugged in for charge via a USB connection.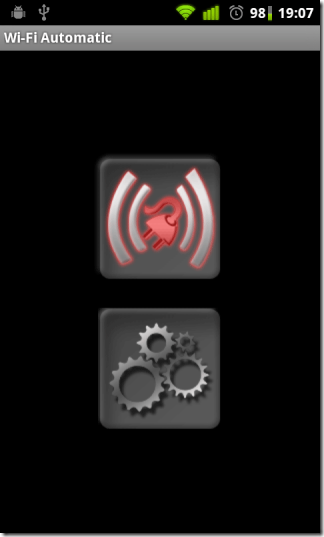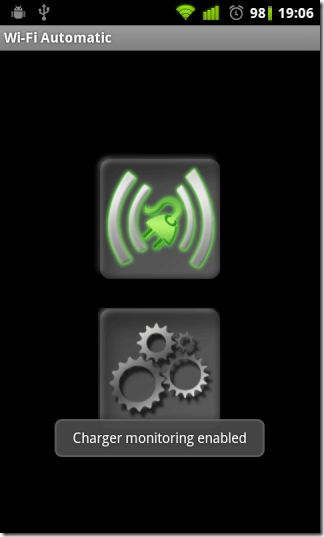 Tapping the 'Settings' button allows you to configure service settings. You can even enable a notification sound to alert you whenever Wi-Fi is enabled/disabled as a result of USB cable connection/disconnection.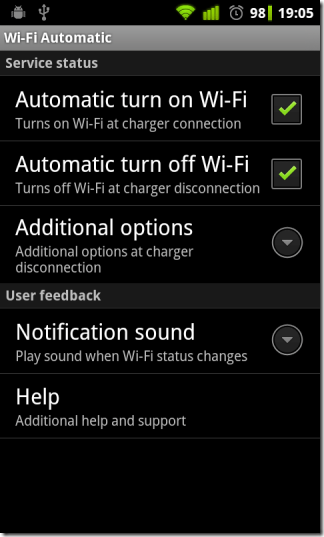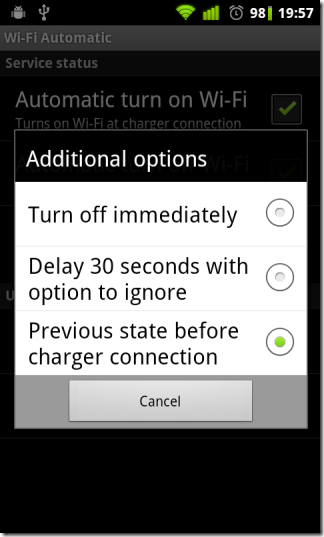 A particularly interesting feature is the previous state before the charger connection option in the Additional options menu, which when selected, sets the application to retain the pre-connection Wi-Fi status once the device is disconnected. That is, the application remembers whatever the status of the Wi-Fi on your device was before it was plugged in and restores it to that status when it is plugged out. Pretty nifty huh?
You can get your own copy of Wi-Fi Automatic from the Android Market for free via this link.